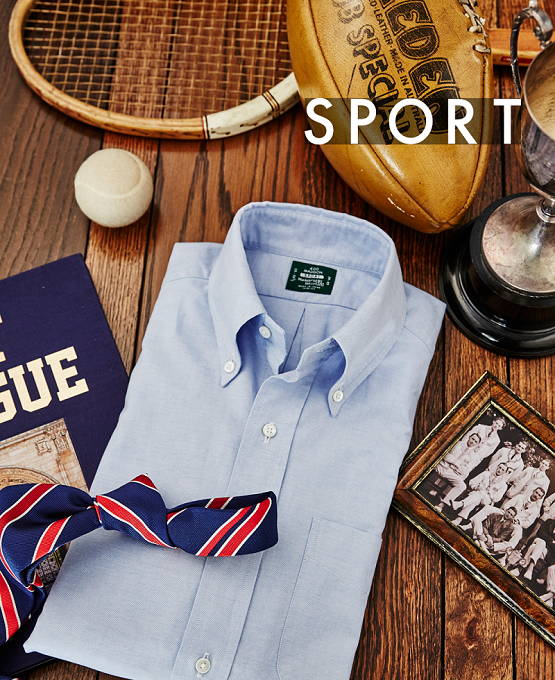 American button-down shirts captured the public's heart in the 1960s, and now we at Kamakura Shirts are using our expertise to faithfully reproduce these classic button-downs.
It is said that the button-down shirt was born from polo players attaching buttons to their collars to help prevent them from flapping around during matches. Since this line of button-down shirts is casual in nature, the collection has been named 'SPORT'.

While recreating fine details from the past, the fit and body of the shirts are identical to the current dress shirt that is available at Kamakura Shirts. The SPORT line is a hybrid of nostalgia and modernity.

The SPORT collection of button-down shirts from Kamakura is finally here after a year of careful research and meticulous modifications. We believe that this collection is what button-down enthusiasts around the world have been waiting for.
---
| | |
| --- | --- |
| New Column | New Column |
| | |
| The unique, soft roll of the collar has been made possible by removing the interlining. The long points of the SPORT collar are extremely difficult to perfect, but have been done so by seamsters of the highest experience. | The front placket is slightly wider, and the cuff width along the sleeve is slightly narrower than our other button-down shirts. Similar to the collar, the placket and cuffs also do not use interlining, creating a classic and nostalgic look. |
| | |
| --- | --- |
| New Column | New Column |
| | |
| The fit and sizing are the same as our dress shirts. The sleeves naturally point forward, and the curve of the sleeve has been tailored to match that of the jacket. | The yoke is also 2cm narrower than that of our other button-down shirts. |
---

Only one factory is involved in the sewing of the SPORT collection, and
we are the only company that has been chosen to make this select item.
In the past, this factory made button-down shirts for VAN Jacket, and we are
still continuing the tradition of making shirts at this site thirty years later.
We have applied these invaluable skills to bring you this collection of shirts.
We feel the challenging combination of made-in-Japan craftsmanship and
casual ivy style has been well expressed by the factory.
To make inspiring shirts, we are always asking our craftsmen to keep in mind
that they are helping to create a one-of-a-kind line of shirts.
| | |
| --- | --- |
| | |
| Our previous collar pattern has been redesigned for the SPORT line. We modified the artistic pattern to match the curvature of the clavicle and used a straight collar. The machine sown gap created by using a curve-free pattern gives each shirt a unique character and charm. | |
| | The primary goal of SPORT is to not use interlining. By eliminating the interlining of the collar, cufflinks, and front placket, which typically use sewn interlining, we were able to create a traditional soft finish. Interlining is a tool that directs the sowing machines at sowing factories, and sewing without interlining is like drawing a line without a ruler. Additionally, after we sew together various parts of a garment and then sow in the interlining, we can adjust its shape before making the finished product. If it does not have interlining, it becomes the finished product immediately after sewing is completed. Such a technique requires a high level of skills. |
| We also have a specific taste for the front placket. In general, the fabric making up the front placket is sewn separately by machine, and is then sewn to the body at the end. SPORT uses a "fake front placket" to make a soft finishing touch without the need for interlining. This part folds into the body panel and looks like a regular front placket. Being able to correctly determine where to make the fold without tacking requires years of experience. | |
| | "Make sure to lower the box pleats by 5mm so that it does not touch the yoke." The strength of domestic production is the ability to carefully carry out detailed sewing instructions like the one above. However, it is these individual differences that make SPORT intriguing. We take care to express each piece while still making sure to keep the style consistent. Keeping this balance while using sewing machines means that all the staff members need to fully understand what they are doing as well, making this line difficult to mass produce. |

Lastly, a message from the creation site.
"I was looking forward to how our customers would react to our reproduction of the core-less button-down shirt, but I was also a bit anxious. Our strength is in our sincerity, and we are dedicated to making shirts that meet the desires of our customers. Craftsmanship in Japan means taking the utmost care even in the smallest details, making many Japanese craftsmen skillful with their hands. We are confident in what we produce, even in such specialized manufacturing."
Since 1896, button-down shirts have continued to be loved by each generation, and they are an item representative of the classic American look. Two experts on Ivy League fashion explain more about several button-down shirt connoisseurs, as chosen by Kamakura Shirts staff members.
Illustrated by Graham Marsh / Written by Toshiyuki Kurosu
Fred Astaire (1899 - 1987), Actor 

Fred Astaire was an all-time Hollywood fashion icon, known for his silk top hats and tailcoats. In the American film "Funny Face" (1957), he co-starred with Audrey Hepburn and showed off the dignified look of the button-down shirt.

Arthur Miller (1915 - 2005), Playwright

It's hard to believe that Arthur Miller and Marilyn Monroe were married, though their life together didn't last long, as they divorced in 1961. When still newlyweds in 1956, Miller always dressed himself in a jacket, button-down shirt, tie, and pocket square - the ultimate traditional outfit.

Miles Davis (1925 - 1991), Musician

Miles Davis, also known as the king of jazz, always had the need to be at the forefront of both music and fashion. He was known for his avant-garde outfits, but you can also see him here in a rare classic button-down pullover back in 1959 when the style was a top fashion trend.

Woody Allen (1935 - ), Film Director & Actor

Woody Allen was a unique director and actor, in that he loved traditional style outfits. He always looked good in a tweed jacket and corduroy pants. He is pictured here in a shot from the 1965 movie "What's New Pussycat?"

Matthew McConaughey (1969 - ), Actor

Matthew McConaughey portrayed a rookie lawyer in the film "A Time to Kill" in 1996. He wore a white button-down shirt (presumably Oxford material) and black knit tie to help create an intellectual and elite attorney-like look.

Patrick J. Adams (1981 - ), Actor

Button-down shirts have long since disappeared from movies and TV shows. In the 50's they were a huge trend, but they are now viewed as a more conservative style of fashion. Patrick Adams co-starred in the American drama series SUITS in 2011, where he portrays a reckless and unlicensed rookie lawyer who manages to join a major law firm.
---
Well-made clothing always make for a piece with a good-looking "face" from the inside out.
After entering into the industry, I worked for a long time doing window displays and creating catalogs. Both jobs require pulling out the best features of each product.
I started my career slightly before the popularity of VAN Jacket began to decrease in 1978. Van Jacket was one of my favorite brands when I was a student, so it was quite a shock, but I remember there were many American fashion brands in Japan at that time. Many of their looks were inspired by VAN or foreign fashion magazines. I still find it amazing that the fashion industry of 1960's Japan was able to popularize Ivy League fashion with such a trial-and-error method.
Many people working in the industry and fashionistas started to want the real thing, and of course I did as well. The MIURA & SONS at the Ame-Yoko market, which later became SHIPS, showcased unique Made in the USA items, such as Sperry Top-Sider sneakers, Ralph Lauren chino pants and Cole Haan loafers. I paid frequent visits to the store, fascinated just to look at the products, but unable to purchase them for myself because of their premium pricing.
Around that same time, I happened to come across the Gitman Bros. button-down Oxford shirt, which featured compact and beautiful upright rolled collars. The crisp green label attached to the elegant Oxford white shirts just topped off the list of reasons why it was a shirt with a good-looking face. Shortly after this encounter, prominent American fashion brands such as Brooks Brothers, Paul Stuart, and Ralph Lauren stepped into the Japanese market, creating a huge fashion boom. Later on, I realized the original model of my fateful encounter was the masterpiece button-down shirt made by Brooks Brothers.
The good-looking white Oxford button-downs became the center of my wardrobe, since they paired so well with grey Saxony pants, khakis, chinos, one wash denim and Seersucker trousers.
I keep mentioning "good-looking shirts," and that refers to the white Oxford button-down shirts that are so common nowadays. As simple as they may be, I think for a shirt to have a "good-looking face" really matters.
When I first saw the SPORT button-down shirt series, I immediately had a flashback of my first encounter with that good-looking button-down shirt. The America I had admired for so long was right in front of my eyes. The American shirts at that time were not sewn three-dimensional, and their large sizing did not match the smaller Japanese frame. The SPORT MODEL was made by analyzing the build of the human body to create a more natural fit that balanced well with the average Japanese frame.
I have heard that only a limited number of craftsmen are able recreate the sewing and details of the core-free collars and cuffs of those times. When I visited the workshops, I was happily surprised to see how they even folded each shirt to show the "good-looking face" just like they would at the stores. The few craftsmen who know about the past put a lot of time and effort into sewing and folding each shirt to recreate these "good-looking faces."
I believe many of you have encountered good-looking shirts with the same thrill and excitement as I have, and I hope that all button-down lovers will add this piece to your wardrobes.
Kunio Hayashi, Visual Merchandizer, Kamakura Shirts