Our 8th collaboration project with Graham Marsh,
co-author of 'The Ivy Look'.
Back in the 1960s, Graham Marsh was fascinated with the world of jazz and Ivy Style.
Fifty years later in 2012, he came across Kamakura Shirts and our Oxford button-down shirts, reminding him of the 60's.
Our collaboration began when Kamakura Shirts opened in New York on Madison Avenue.
Since then, he has continued to design four unique new shirts for our Vintage Ivy Collection every year,
as we strive to rise above all expectations.

A new collection for this year has arrived.
Take a look and enjoy the nostalgia of the Ivy Style heyday.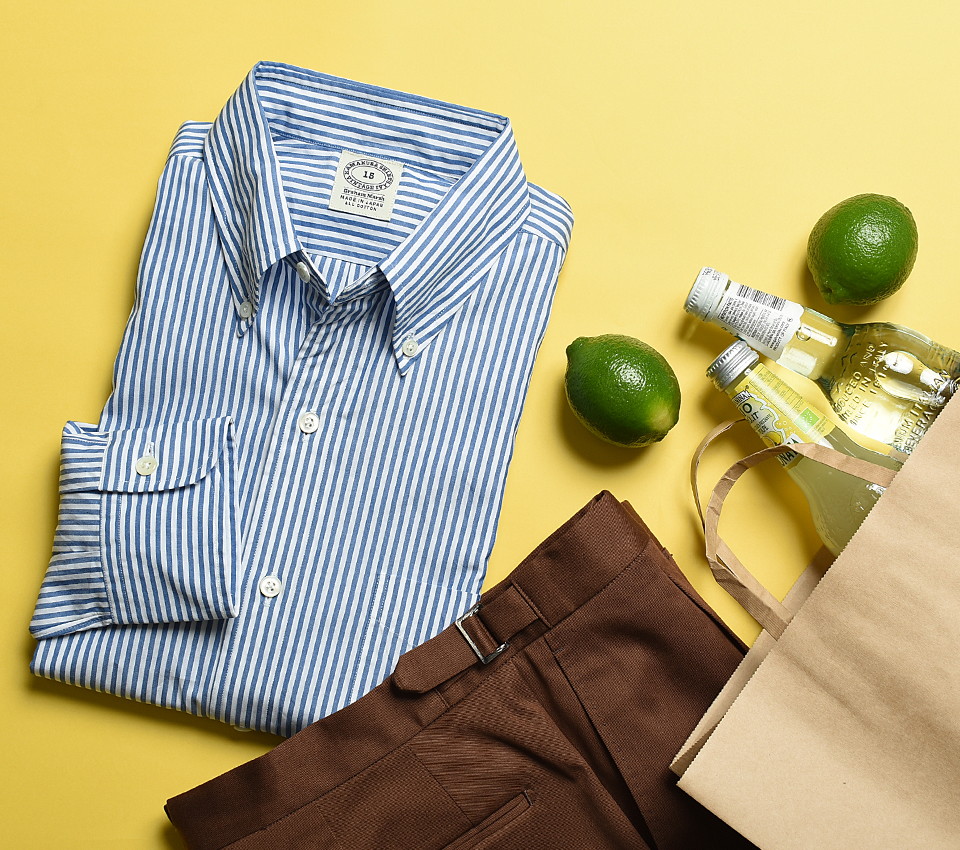 BLUE BENGAL STRIPE

"From the university campus to Madison Avenue, the blue Bengal stripe is elegantly timeless. Kamakura has made this traditional stripe button-down shirt with all the fine details expected by lovers of the Ivy look."
From the boardroom to your room - The Bengal stripe is an elegant choice and goes well with a wide range of styles. We paired this shirt with classic accessories.
OXFORD BUTTON-DOWN WITH FRENCH PLACKET

"Both Paul Newman and John F. Kennedy wore button-down Ivy shirts with a French placket during the 1960s. At Kamakura we figure that if it's good enough for them, it's good enough for us so we made this Vintage Ivy shirt in white lightweight oxford cloth. It's a rare thing – get it while you can."
Like it says, a button-down oxford with a French placket is rare nowadays. It is a shirt that provides a blank canvas for the Ivy enthusiasts' individual style.
GREEN OXFORD BUTTON-DOWN

"On the cover of his 1958 album Milestones, Miles Davis subverted a standard issue garment that Ivy Leaguers claimed their own by wearing an immaculate green oxford cloth button-down shirt. It was the Ivy look with attitude. This is Kamakura's tribute to an unassailable hip musician."
The cool green of this button-down shirt complements perfectly a pair of vintage denim as well as your favourite chinos.
NAVY BLUE WITH BURGUNDY OVERCHECK

"This navy blue with burgundy overcheck button-down shirt is a fine example of innovative 1960s American graphic design, interpreted here in an exclusive check by Kamakura's skilled craftspeople. It is for sure a stone-cold classic."
A versatile shirt that can be worn with almost anything. It can be dressed up or dressed down - the choice is yours.
About Graham Marsh

British illustrator & ivy critic. Major works are "The Ivy Look: Classic American Clothing – An Illustrated Pocket Guide" and "HOLLYWOOD AND THE IVY LOOK". One of the only illustrators who has world-class insight into movies, actors, jazz, and clothes of the 1960s when the Ivy style became popular and creates a unique worldview with his cat character, MAX.


Each limited edition shirt comes with a specially illustrated by Graham Marsh.
We have four types of special designs to match your shirt.