F|Field Coat and French Cuffs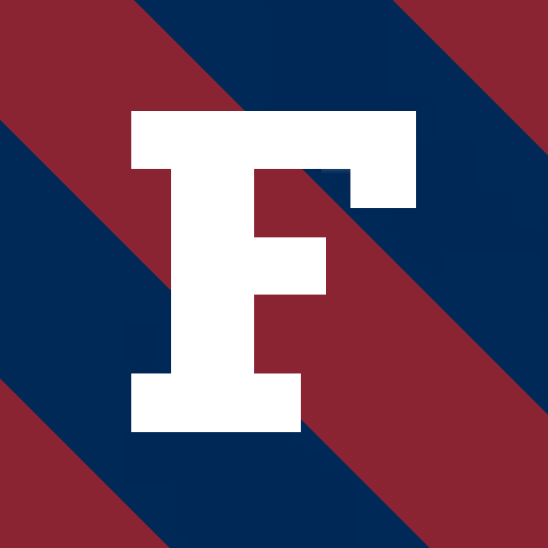 'If you don't want to use the army, I should like to borrow it for a while.' Yours respectfully, Abraham Lincoln



The M-65 Field Coat
Every member of the Ivy fraternity should have at least one field coat. That is a coat that can be layered over your button-down shirt which is in turn under your crew neck shetland sweater. It is equally at home on the city streets of London, New York, Paris or Tokyo as it is in the countryside. Although talking of the countryside, have you seen what mud does to your Bass Weejun loafers? As Marlon Brando complained in the movie, On The Waterfront (1954), 'I don't like the country. Crickets make me nervous.'
There are many makers of field coats, L.L. Bean, Barbour, Purdy and Holland and Holland to name a few but for me the Ivy Look jacket of choice is the M-65 Field Coat, it's a classic, designed and used by the American military forces for over fifty years. With it's concealed hood which zips out of the collar and heavy brass zippered front closure the M-65 provides all-weather protection and is almost indestructible. This practical jacket makes it, arguably, the most widely copied military garment and certainly the one that has been worn most in civilian and commercial life.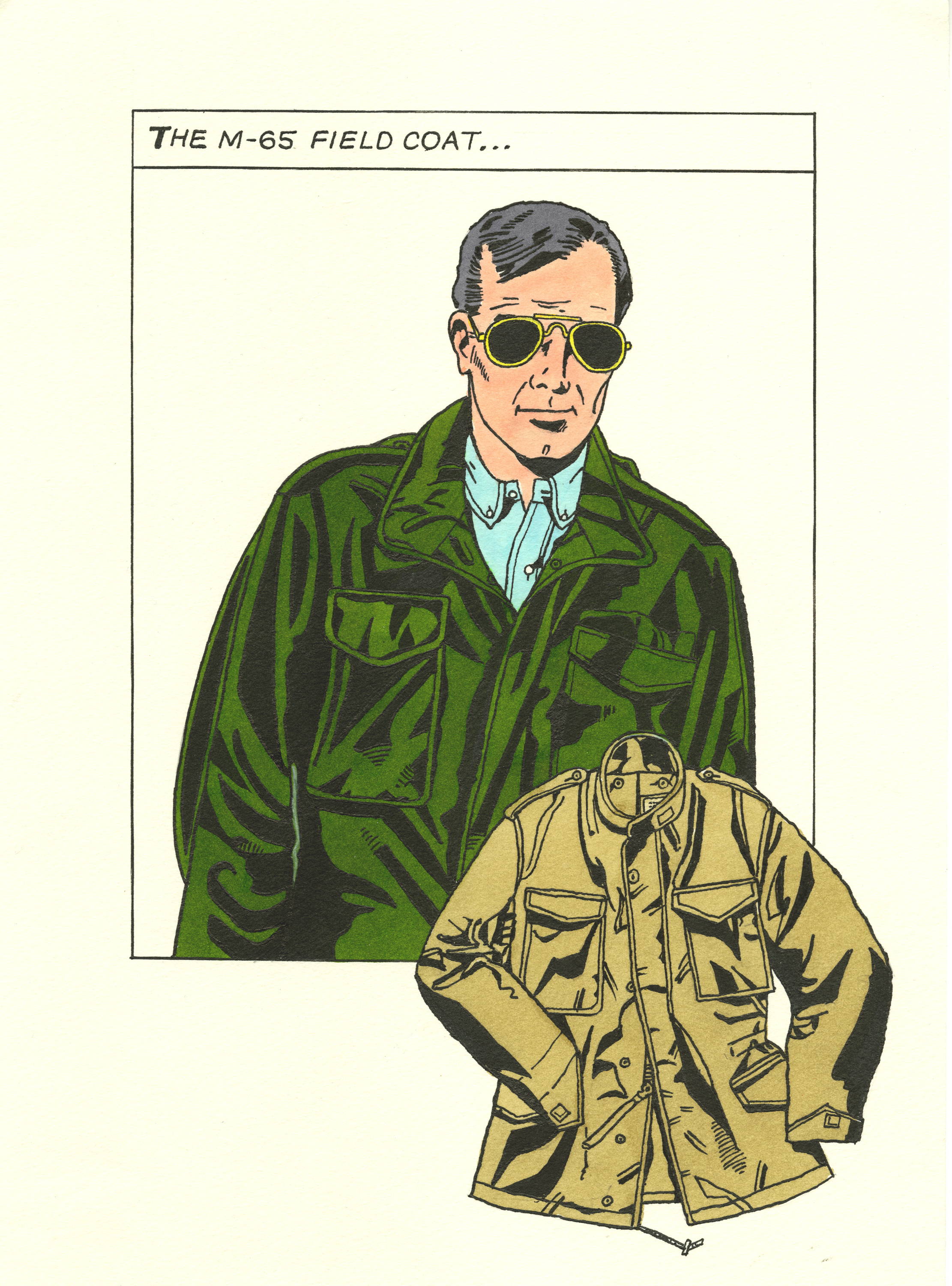 The M-65 also appeared in many movies on the backs of Robert de Niro in Taxi Driver (1976), AL Pacino in Serpico (1973) and Sylvester Stallone in First Blood (1982). Woody Allen was also an advocate of the M-65 Field Coat and could be seen on the streets of New York bucket hat pulled down over his eyes, hoping not to be recognized.

I've had a couple of M-65's over the years, one in khaki and the one I now wear in olive green which has seen me through many days of inclement weather. In my opinion it works best when worn with off-white 519 Levi's 'Californians' which are exactly the same as the 1960s bedford cord originals, and of course, a pair of loafers of choice - Aldens or Weejuns will pass muster.
The original M-65, made by Alpha Industries Inc., is still available either from outlets selling pre-worn military clothing or new on the many internet websites, it's a useful addition for those discerning Ivy Look devotees with modernist sensibilities.
French Cuffs
The most formal Ivy shirt cuff, the French Cuff is twice as long as regular cuffs and is folded back on itself and designed to be closed with cufflinks. This style of shirt takes a formal collar, a turn down, cutaway or pin often worn with a business suit or black tie. Kamakura produce a fine selection of French cuffed shirts and also have an excellent made-to-measure service. Cufflinks are making a bit of a comeback in 2021 and although it is certainly a more formal look, a shirt with French cuffs can be worn without a jacket but will not work with casual trousers or sneakers. Shirts with a French cuff look good with a blazer but not a sports jacket. People often notice small details about someone in a formal or business setting and cufflinks are one of those details that matter.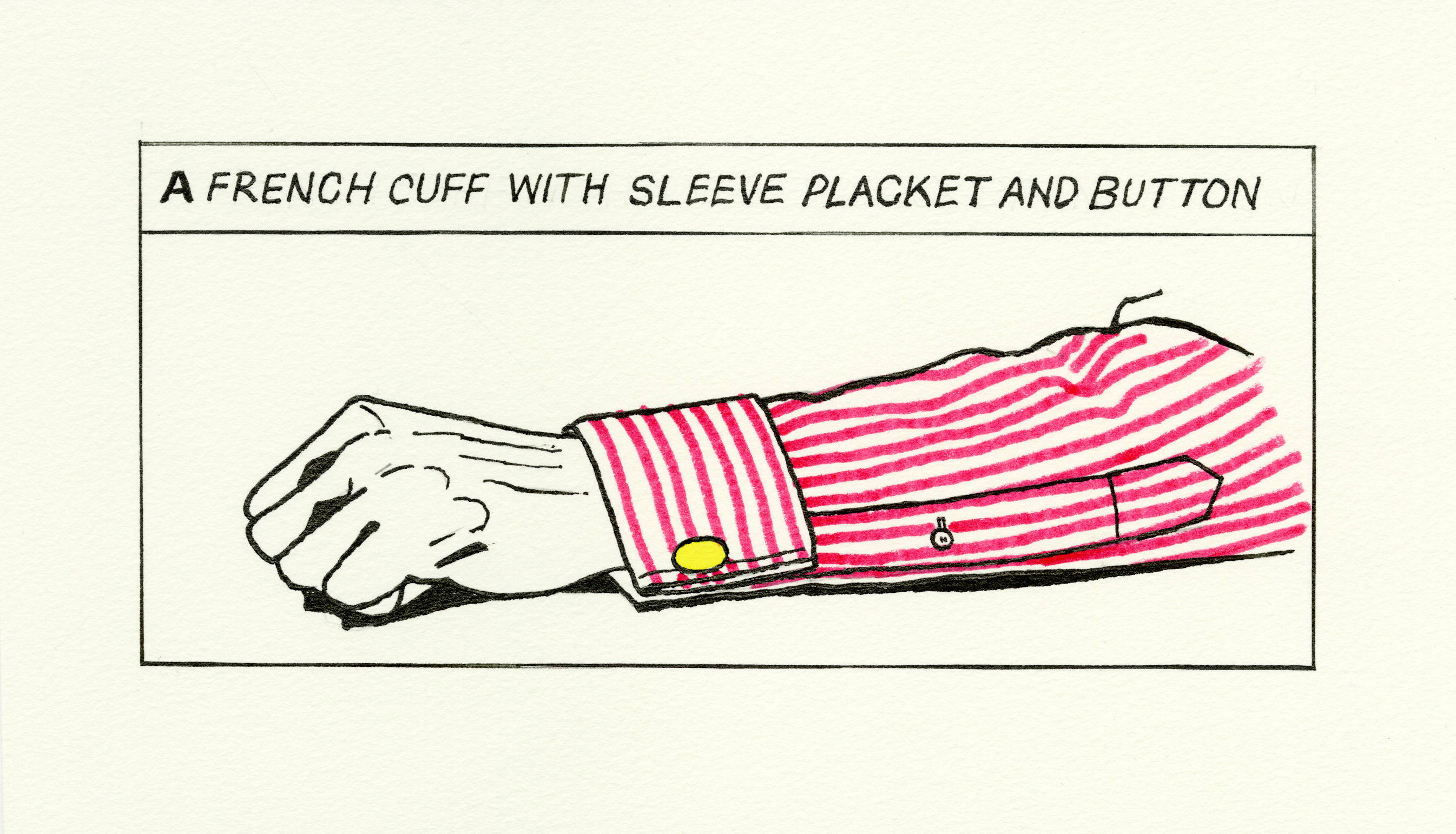 Cufflinks are a necessary component but do not have to be an expensive addition. However, you can certainly make an impression with precious stones and metals or personalize them with your initials, university or crest. There are other similar cuff styles, for example, the two button double-fold cuff (known as the cocktail cuff or Portofino). This cuff was made famous by Ian Flemings' very cool superspy, James Bond played elegantly by Sean Connery, of course.

Written and illustrated by Graham Marsh
Illustrations: Copyright Graham Marsh


About Graham Marsh
Graham Marsh is an art director, illustrator and writer. He has written and art directed many ground-breaking visual books including The Cover Art of Blue Note Records, volumes 1 and 2, East Coasting and California Cool. He has co-authored and art directed Denim: From Cowboys to Catwalks and a series of books with Tony Nourm and on movie posters. More recent books are The Ivy Look, Hollywood and the Ivy Look, Jazz Festival, The Beat Scene, French New Wave: A Revolution in Design and a 50th Anniversary volume on Woodstock plus a book on the early years of Ronnie Scott's Jazz Club. He is author and illustrator of a children's book called Max and the Lost Note. Marsh's illustrations have appeared in magazines, newspapers and on many CD and album covers. He has contributed to numerous publications including Country Life and Financial Times.
---