Varsity Jacket and Vinyl Records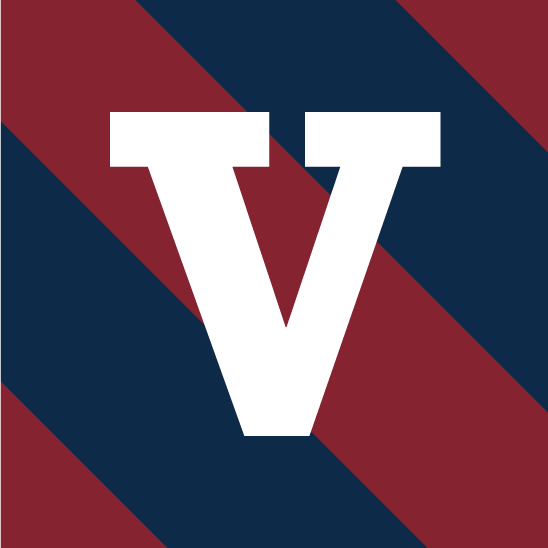 "One pretends to do something, or copy someone or some teacher, until it can be done confidently and easily in what becomes one's own style." -Cary Grant
Varsity Jacket
Varsity jackets are yet another enduring Ivy League classic. They have evolved as a popular global trend for the young. I say for the young because the varsity jacket has the colour and boldness of youth and somehow looks out of place on most older folk.
I have had the pleasure of owning a couple over the years - always the Americaphile, even in my twenties. There used to be a store in London called Badges and Equipment that had a huge range of vintage US varsity jackets. I had a navy blue one with white sleeves and another in red with black sleeves. These worn with a pair of 501 Levi's and Bass Weejun loafers looked the business and to complete the outfit I drove around in a red convertible Karman Ghia.
Varsity jackets trace their origin to the letterman sweater, first introduced by Harvard University baseball team in 1865. The letter was usually quite large and centred (if the sweater was a pullover), stripes on the sleeve designated the number of letters won, with a star indicating team captain. However, you no longer need to
belong to a college team to wear today's varsity jackets, they are readily available and can be customised in colour, numbers and patches from many retail sources. You can even have your name appliqued and a mobile phone pocket inserted.
Elite male athletes at Ivy League colleges wore early versions in the 1920s. The boiled wool jackets, derivative of English rowing blazers and the letterman sweater had snap buttons, leather sleeves and patches and pins denoting your college team. They certainly conferred status and swagger, as indeed, they do today.
The look has changed little since the 1950s when girls wore them over their pedal pushers or poodle skirts and boys wore them with a plain white t-shirt and blue jeans.
On recent catwalks and streets of Paris Louis Vuitton's menswear showed models and guests alike sporting colourful varsity jackets bearing the house's initials, proof, if needed, that it's now a mainstream Ivy jacket, here to stay.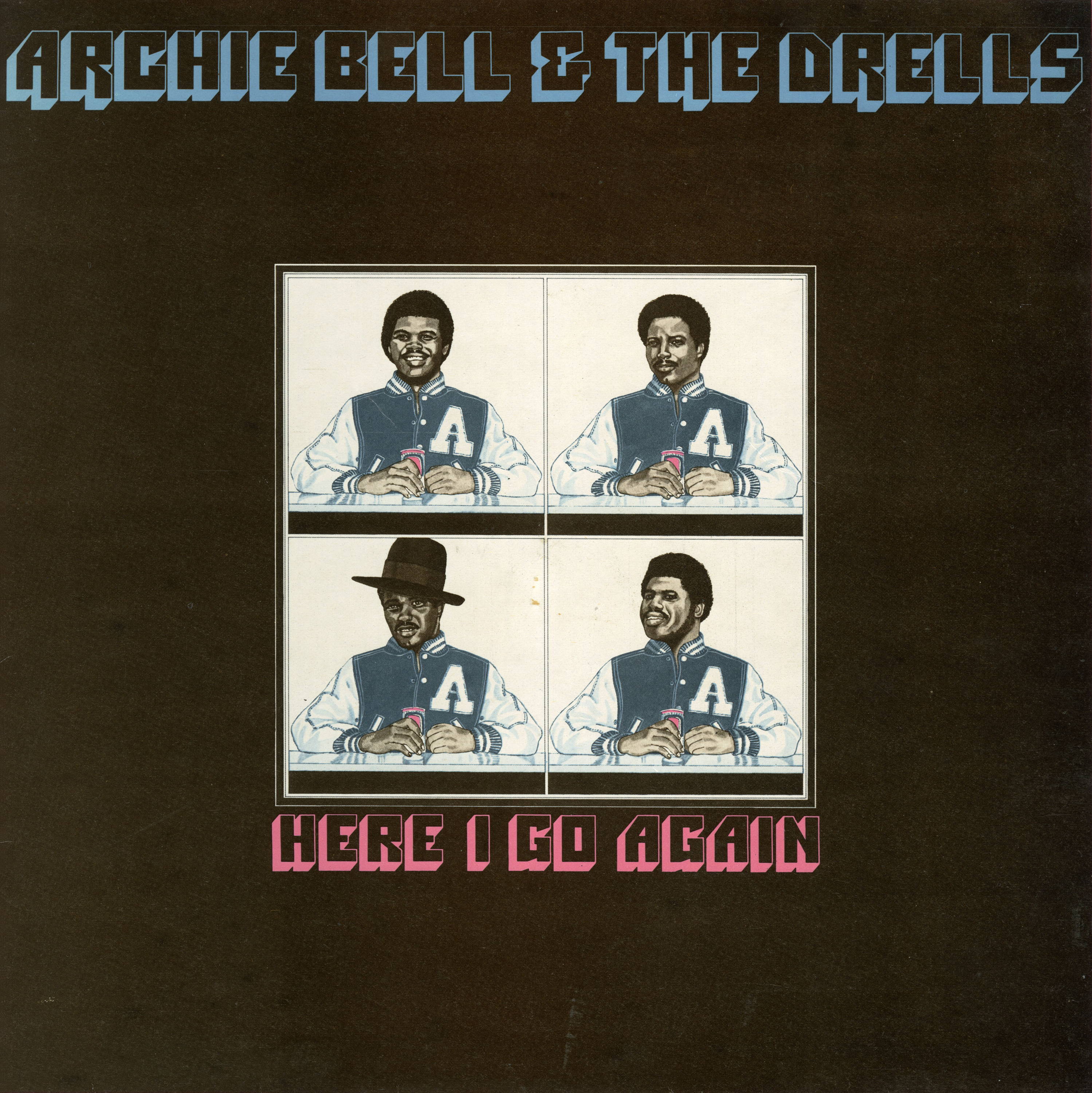 I did this illustration for an album cover for Archie Bell and the Drells in the late 1970s. Archie Bell and the Drells were an American R&B vocal group from Houston, Texas. 'Here I Go Again' was a hit single. I drew the band in Varsity jackets as I figured this was a very American way to dress.

Vinyl Records
It's a rare thing when album cover art is considered as influential and collectible as the music contained within the grooves of the vinyl, this was definitely the case with Blue Note Records. I appreciated the graphics and illustrations used on the sleeve designs.
I like all kinds of music, from the soul that poured out of Stax and Atlantic to the essential sounds of Blue Beat and Ska, but if pinned down, modern jazz is my preferred choice. Although, over the past few years classical music has crept in, ironically by way of jazz. I had seen at the cinema a screening of 'Jazz on a Summer's Day', directed by Bert Stern in 1958 in which there is a scene where Fred Katz, bass player with the Chico Hamilton Quintet played Suite No.1 from Bach's cello suites on his double bass, albeit with a bow, this was to keep in practise.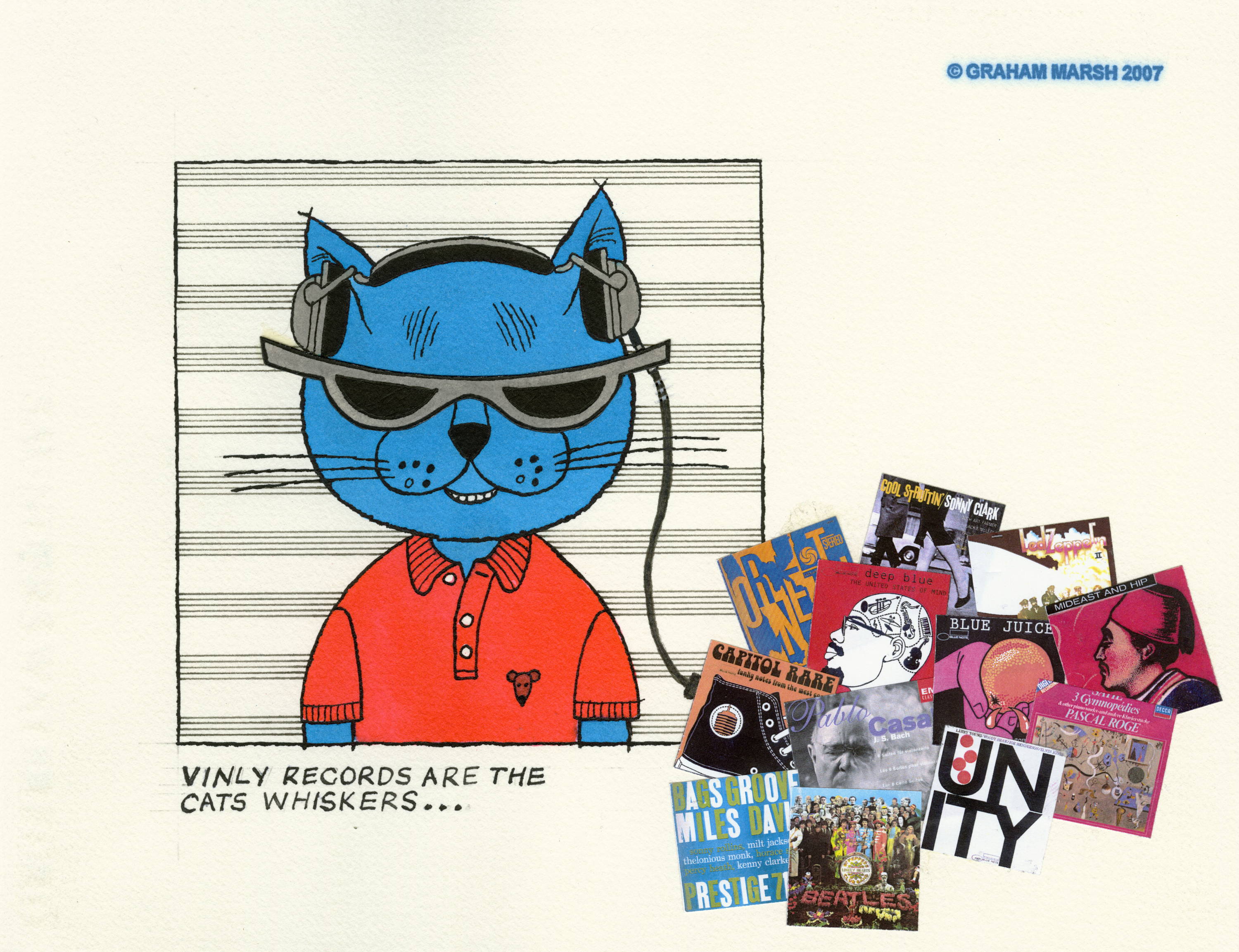 Katz had studied with Pablo Casals, one of the great cello players of all time. Katz also played with multi instrumentalist Eric Dolphy and a bunch of other modern jazz luminaries. Anyway, next day I bought the Bach cello suites by Casals, it's played constantly. I know some people say that the twelve inch vinyl record has been
consigned to analogue music history. However, recently vinyl records have become essential for any self-respecting Ivy influenced hipster to be seen with. It seems nothing changes as this was the same back in the day. I am no audio engineer but to me streaming, CDs and a host of other ways to hear music do not hold a candle to vinyl - but that's my problem.

Written and illustrated by Graham Marsh
Illustrations: Copyright Graham Marsh


About Graham Marsh
Graham Marsh is an art director, illustrator and writer. He has written and art directed many ground-breaking visual books including The Cover Art of Blue Note Records, volumes 1 and 2, East Coasting and California Cool. He has co-authored and art directed Denim: From Cowboys to Catwalks and a series of books with Tony Nourm and on movie posters. More recent books are The Ivy Look, Hollywood and the Ivy Look, Jazz Festival, The Beat Scene, French New Wave: A Revolution in Design and a 50th Anniversary volume on Woodstock plus a book on the early years of Ronnie Scott's Jazz Club. He is author and illustrator of a children's book called Max and the Lost Note. Marsh's illustrations have appeared in magazines, newspapers and on many CD and album covers. He has contributed to numerous publications including Country Life and Financial Times.
---