B|Blazers, Brogues and Bow-ties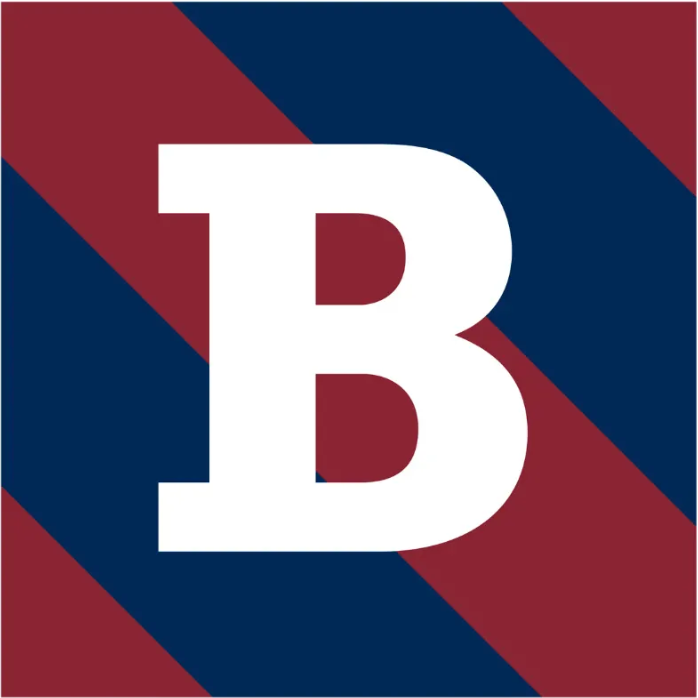 Dressing Fine, Making Time
Blazers, Brogues and Bow-ties
For me, when it comes down to the wire there are really only two tried and tested staples that have become the epitome of the Ivy Look: Shirts and shoes. Since my collaboration with Kamakura to produce the Vintage Ivy shirt collection it comes as no surprise that these are the only shirts I ever wear. As for shoes, I have many, they range from Long Wing-Tip cordovan brogues. Plain Toes, also known as 'Smooths' to loafers of all makes and styles, from plain vamp to Beef Roll and also Sanders 'Playboy' High Tops, Clark's and Hutton Desert boots plus a pair of Paraboots and Saddle shoes. If I missed naming any they were probably hidden at the back of my wardrobe and I apologize.
B.
"The Blue Period was not a question of light or colour. It was an inner necessity to paint like that." Pablo Picasso

Although he was the main man when it came to the colour blue, Picasso wasn't particularly known for wearing navy blue blazers - he left that to the Ivy fraternity. Over the years I've had several navy blue blazers, including one in 100% cashmere which I loved, unfortunately, so did the moths who treated it like a three-button Michelin star restaurant. I think what is left of it is in a box in my loft alongside a favourite but now threadbare, made in the USA, navy hop-sack Ivy suit which I have had duplicated at least twice by a tailor friend who made suits for soul bands - both suits were a work of art. If, for nothing else the colour navy is part of the blazer's history. As popular legend has it the name derived from a nineteenth-century warship called H.M.S. Blazer. The commander of this ship of the line decided his motley looking crew would benefit from a make-over by insisting they all wear jackets with blue and white vertical stripes.
Back in civvy street, blazers became part of English cricket club scenery as well as other sporting arenas. The jackets were decorated with vertical stripes in the clubs colours. This eventually spread to English and American universities over the ensuing decades. Nowadays the colourful stripes have all but disappeared to be replaced with the familiar, classic solid navy blue. In England the remaining striped garments still worn are referred to in some circles as boating jackets.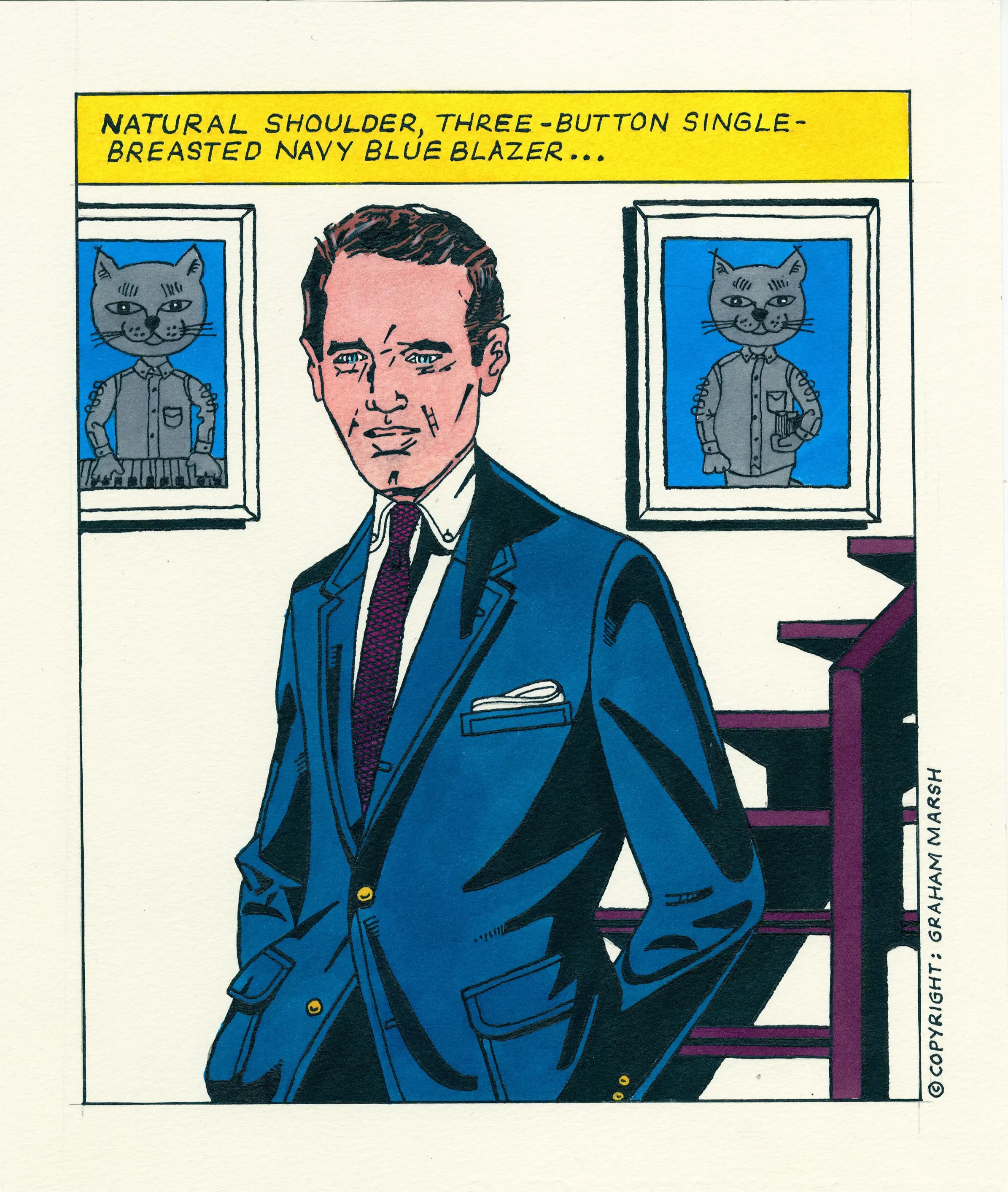 Today the blazer remains an indispensable, versatile garment as it looks good with khaki chinos as well as Levi's that have been tempered to the optimum shade of blue. However, the traditional gold, silver or nickel buttons emblazoned with an array of crests and coats of arms to some Ivy pilgrims have become a tad ostentatious and have been replaced with dark brown horn buttons - the choice is yours.
Celebrated icons of celluloid and literature have all, at some time or other, worn the ubiquitous navy blue blazer. Robert Redford wore an excellent one in the 1976 movie, All the President's Men and American novelist and humorist, Fran Lebowitz is immediately identifiable by her wearing of Levi's 501's, mens blazers - made by Savile Row's Anderson & Sheppard and tortoiseshell eye glasses.

I do not own a pair of black shoes, they are what they are black! No other hues emanate from their blackness, whereas brown shoes come in all manner of shades. Khaki, buff, russet, sepia, umber, taupe, mahogany, saddle and tobacco. A shade to suit every occasion and every garment which is why a Long Wing-Tip cordovan brogue seriously compliments the Ivy Look. The wing-tip takes it's name from its toe-cap shaped like the spread of a birds wings pointed in the center and extending toward the rear with heavily perforated side seams.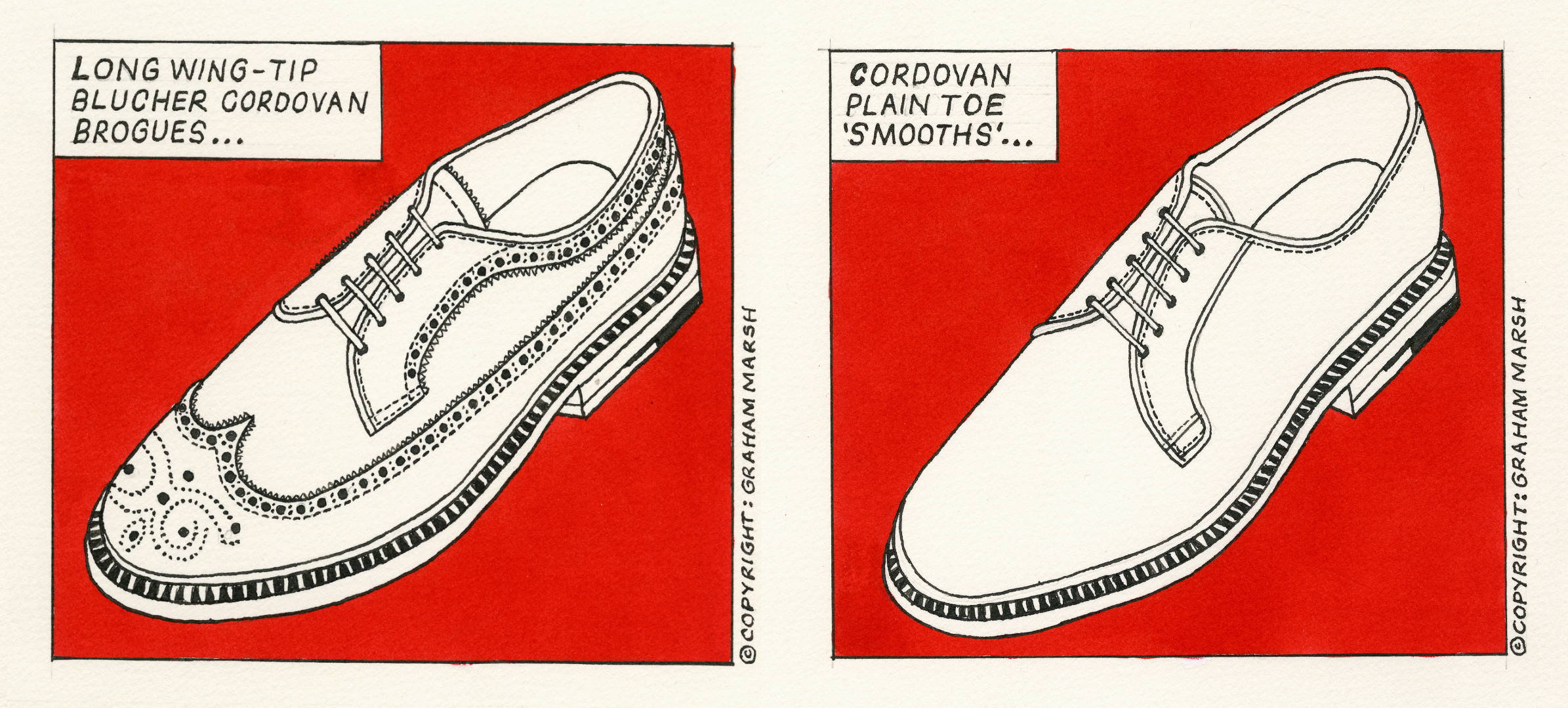 There is a scene in the 1967 movie, 'Point Blank' where Walker, the character played by Lee Marvin is striding along the endless neon-lit corridors of Los Angeles airport. He is there on a mission to take back $93,000 he was cheated out of by the Organization. On his face is a menacingly impassive expression. On his feet are a substantial pair of Florsheim Imperial Long Wing-Tip Brogues. They are five eyelet Blucher-style with Goodyear welt construction in tan coloured Scotchgrain leather. Blucher-style is named after the Prussian general Gebhard Leberecht von Blucher, one of Napolian's opponents, who decided his troops needed better shoes than the low-cut ones they wore with gaiters, he commissioned a boot with side pieces lapped over at the front. They had a loose inner edge and lacing across the tongue. As the late, great, George Frazier, the Boston Globes style correspondent said, 'Wanna know if a guy's well dressed? Look down.'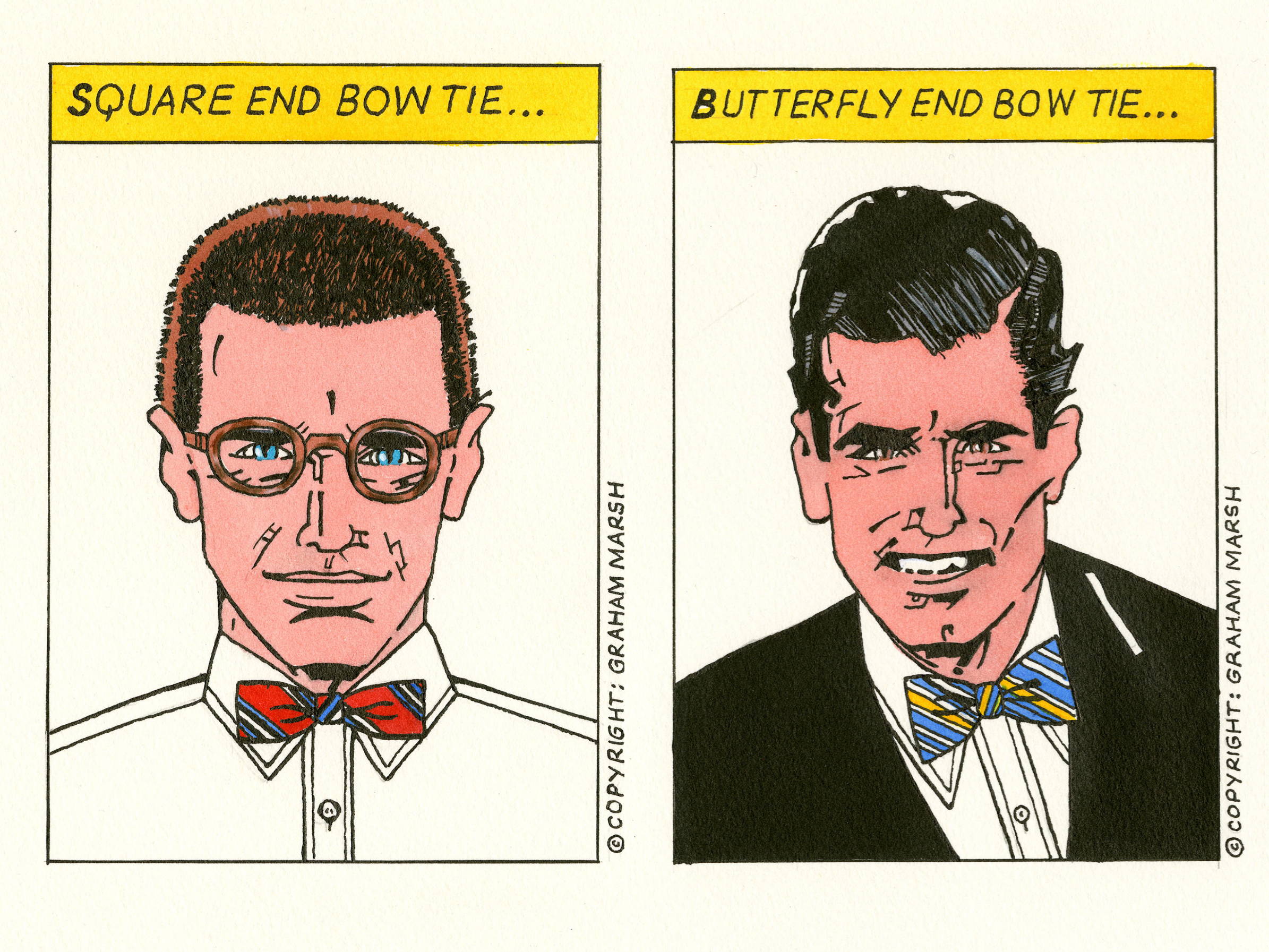 Bow-ties are typically worn with a tuxedo for evening wear, although the bow-tie in daytime does suggest a collegiate and to some extent an individualists style and is a particularly good look in summer, for example, a madras bow-tie with a seersucker jacket or more formal in brocade or plaid with a dark suit. Needless to say, bow-ties can also look great with a blazer and chinos or denim jeans. Hand tied bow-ties have the edge but there are some excellent ready tied ones now available. I have to admit bow-ties have never been part of my dress code, however, on the right person wearing the correct threads it is a good look - just remember to tuck a few books under your arm when leaving home. Bow-ties come in a wide range of colours and patterns. The two main styles are butterfly and the square end.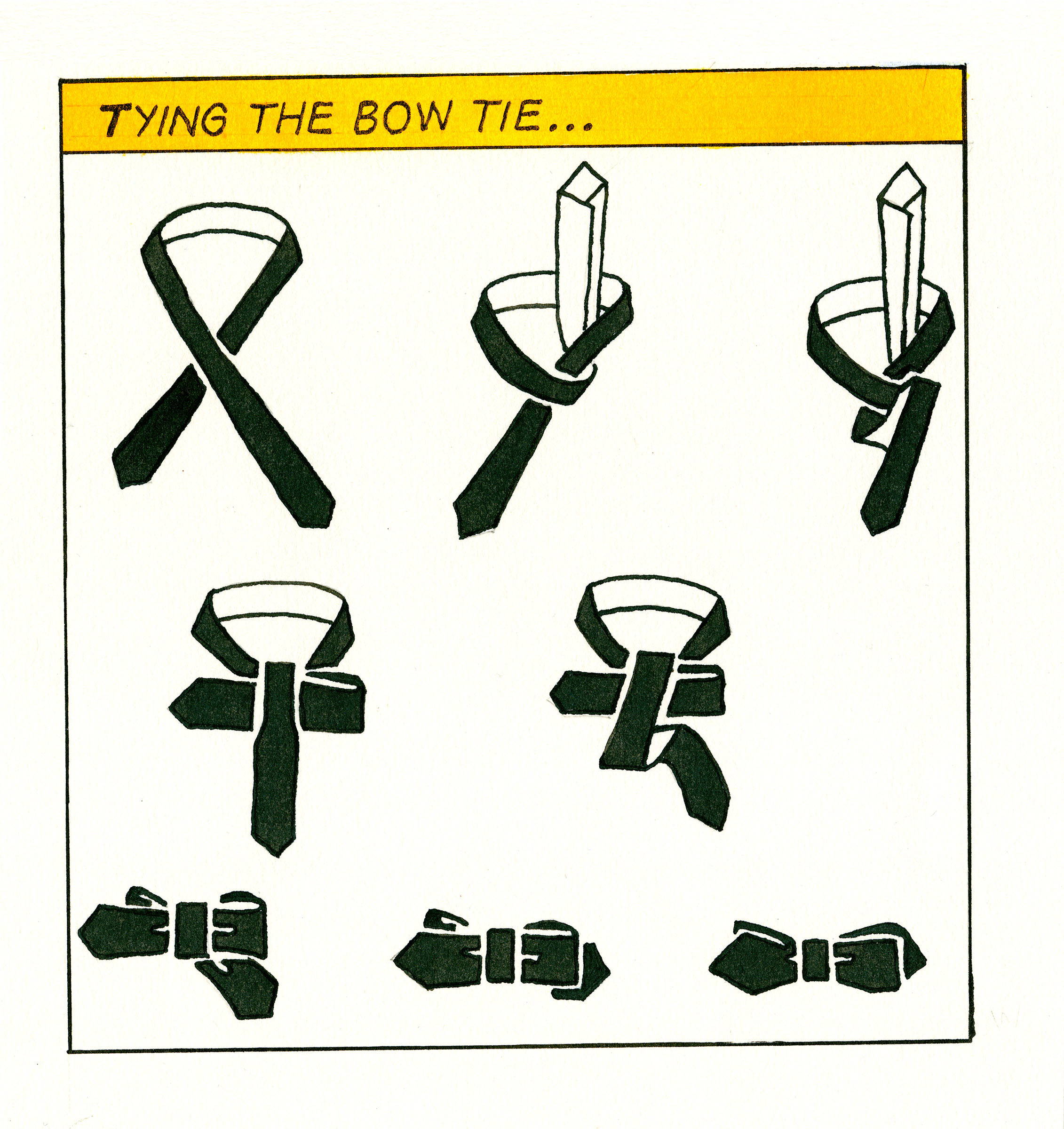 Stop press. Along with my good friend and owner of Real Art Press publishing company, Tony Nourmand and co-author Jason Jules we are working on a new book called 'Black Ivy.' Many
amazing photographs and informative copy, coming soon, it's a visual feast.


Next up is the letter C cardigans, chinos, Converse and shirt collar styles. - Graham Marsh
About Graham Marsh
Graham Marsh is an art director, illustrator and writer. He has written and art directed many ground-breaking visual books including The Cover Art of Blue Note Records, volumes 1 and 2, East Coasting and California Cool. He has co-authored and art directed Denim: From Cowboys to Catwalks and a series of books with Tony Nourm and on movie posters. More recent books are The Ivy Look, Hollywood and the Ivy Look, Jazz Festival, The Beat Scene, French New Wave: A Revolution in Design and a 50th Anniversary volume on Woodstock plus a book on the early years of Ronnie Scott's Jazz Club. He is author and illustrator of a children's book called Max and the Lost Note. Marsh's illustrations have appeared in magazines, newspapers and on many CD and album covers. He has contributed to numerous publications including Country Life and Financial Times.