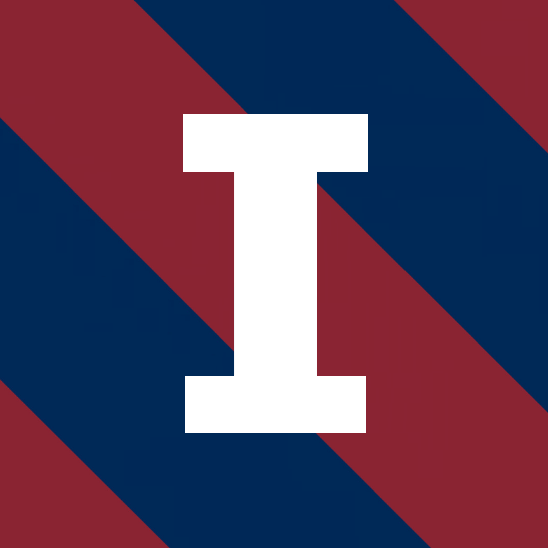 "Everything is easy and casual in a well-bred, old-money sort of
way that calls forth visions of Vassar and Smith in the '50s." IVY GIRLS.



IVY GIRLS
I wrote a small piece about Ivy girls in the Kamakura A to Z of the Ivy Look under G but I thought it was a subject worth returning to here. There is an excellent book called Seven Sisters Style by Rebecca C.Tuite, which is published by Rizzoli. It's a comprehensive history of the Seven Sisters colleges - Barnard, Bryn Mawr, Mount Holyoke, Radcliffe, Smith, Vassar and Wellesley. As Tuite says, "These colleges were founded between 1861 and 1889, The Seven Sisters Colleges were the first schools opened 'To be to women what Harvard and Yale were to young men.' The colleges were elite and prestigious with a collective sheen of exclusivity, intelligence, and a way of dressing that would eventually become a marker of national pride and status all over the world."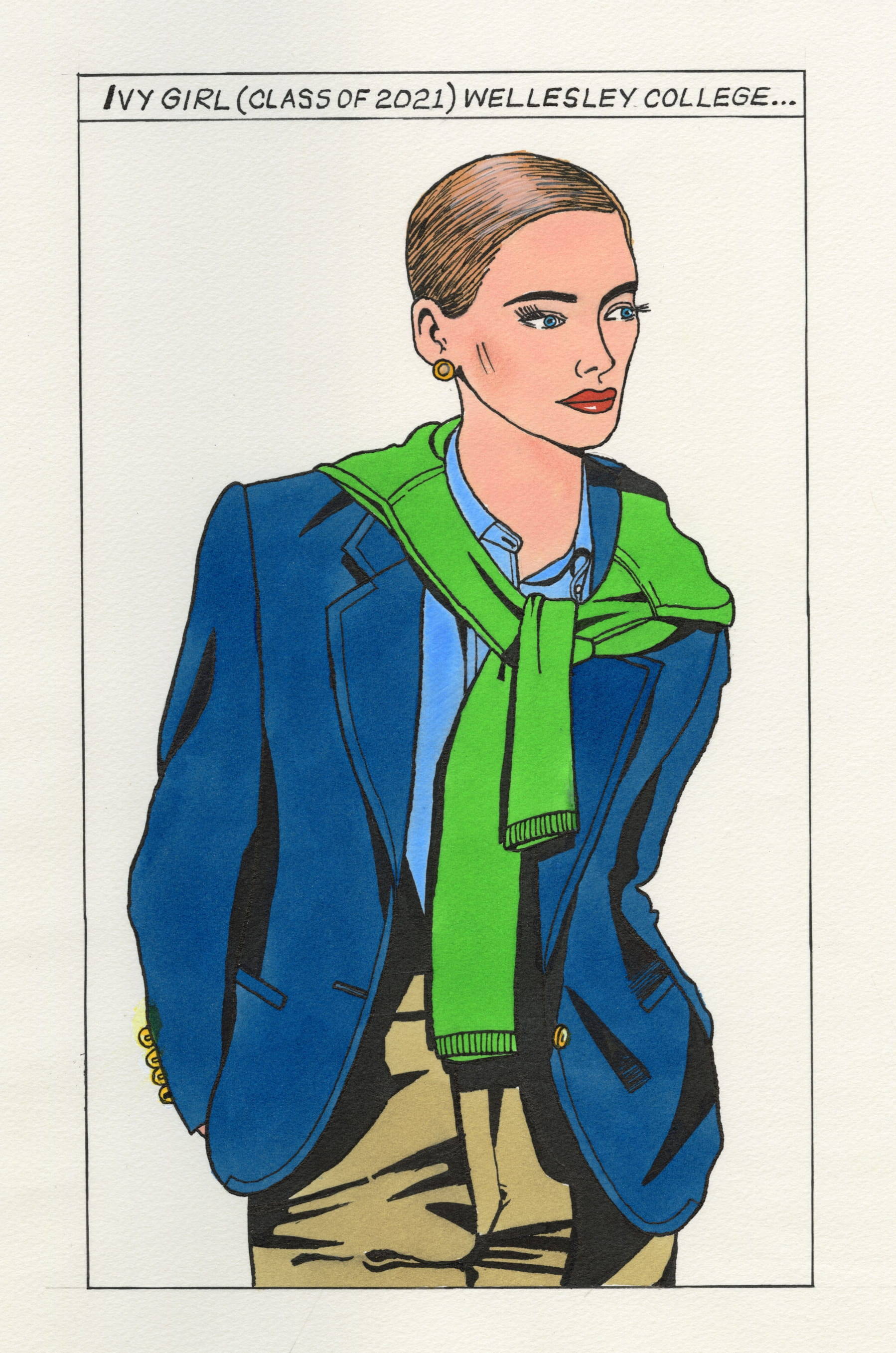 However, the origns of the Ivy look may have been exclusive on campus uniform, but today more than ever the look is flexible, inventive, and inclusive. Layering a cropped sweater over a tailored shirt, a pleated skirt, and socks with high heels might not be traditional Seven Sisters style, but it keeps preppy or Ivy style relevant in 2021. More fashionable than ever, in the spirit of Ivy style, are todays pleated skirts in tweeds and plaids, crisp white shirts with different and feminine collar shapes, neat blazers and crew neck sweaters. Finely stitched loafers or saddle shoes perhaps worn with white socks are A-plus finishing touches.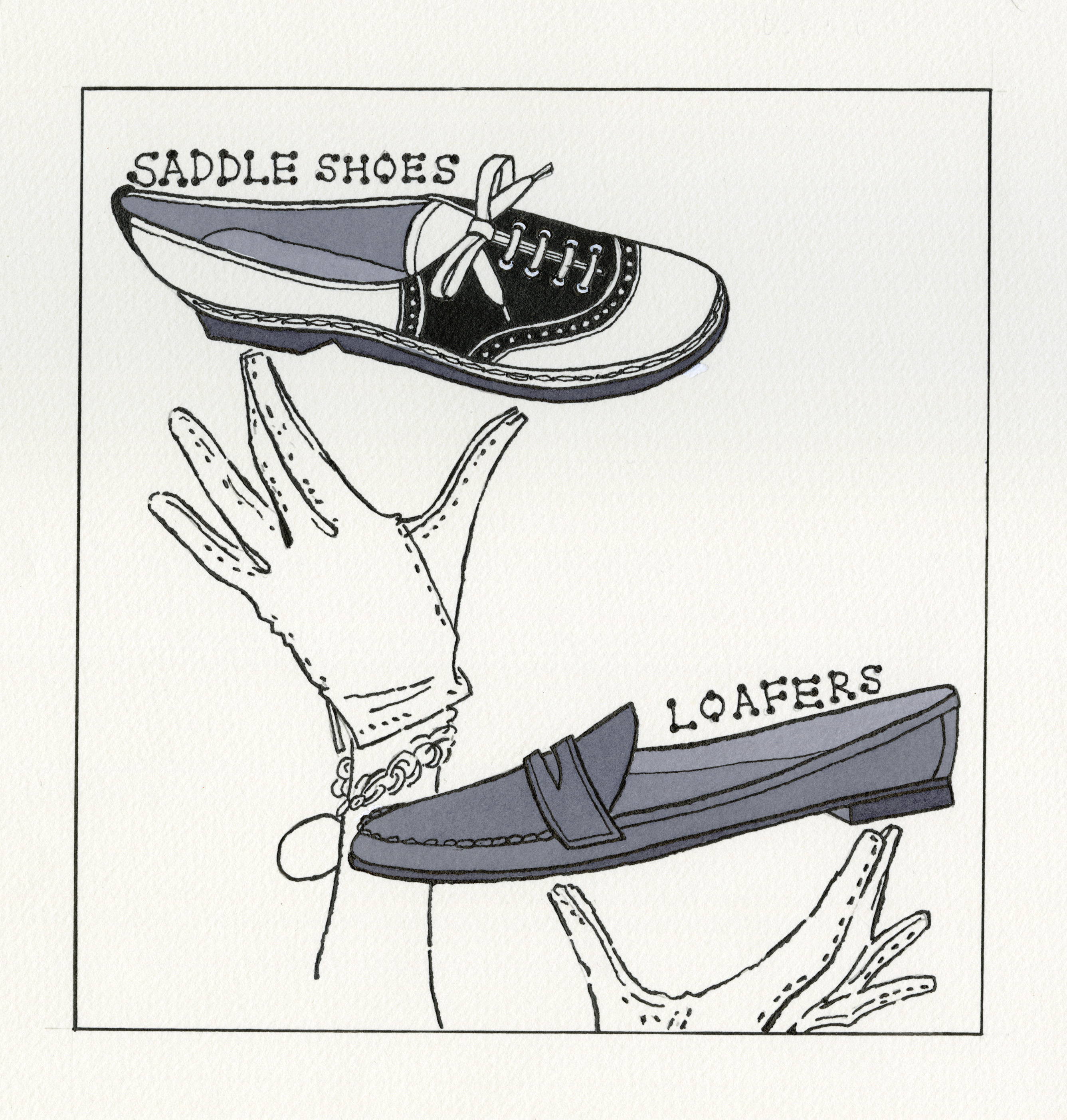 Essentially, Ivy Girls love the classics. They can make wearing a silk headscarf glamorous. A string of pearls flamboyant. A college scarf elegant. Bermuda shorts in madras plaids and cotton drill chinos are more sporty favourites and it's interesting how Varsity and Letterman jackets have made a reappearance on global catwalks. These are clothes you can rely on and continue to replace year after year without seeming to be 'out of fashion.'
Some of Hollywood's greatest actresses attended these Seven Sisters colleges. For example, Katherine Hepburn went to Bryn Mawr in the thirties. MacGraw attended Wellesley. And of course, Meryl Streep who graduated from Vassar in 1971.
I remember there was a wonderful store called Westerway and Westerway in Museum Street in London in the 60s and 70s just opposite the British Museum. It was a series of small, interconnecting stores and sold a beautiful selection of shetland and cashmere sweaters, plaids of all clans including hats, kilts and scarves. It was a Mod girls paradise! It is sadly missed but still exists in a much smaller form online in Spain, I believe.


There are many elegant preppy touches that add style to classic pieces - embroider your initials in script on a crisp button-down shirt. Wear a handsome belt around the waist of your crew neck sweater. Much of the Ivy girl look has, I have to admit, been stolen from the boys. Think of Diane Keaton in the movie Annie Hall, 1977. She rewrote the rules of traditional men's tailoring, mixing interesting textures, incorporating feminine details and enjoying an oversized silhouette were all trademarks of the Seven Sisters style, and the "Annie Hall Look." Just as relevant today as it ever was.

Kamakura's Women's collections include many desirable Ivy looks that are sure to become firm favourites.

Written and illustrated by Graham Marsh
Illustrations: Copyright Graham Marsh


About Graham Marsh
Graham Marsh is an art director, illustrator and writer. He has written and art directed many ground-breaking visual books including The Cover Art of Blue Note Records, volumes 1 and 2, East Coasting and California Cool. He has co-authored and art directed Denim: From Cowboys to Catwalks and a series of books with Tony Nourm and on movie posters. More recent books are The Ivy Look, Hollywood and the Ivy Look, Jazz Festival, The Beat Scene, French New Wave: A Revolution in Design and a 50th Anniversary volume on Woodstock plus a book on the early years of Ronnie Scott's Jazz Club. He is author and illustrator of a children's book called Max and the Lost Note. Marsh's illustrations have appeared in magazines, newspapers and on many CD and album covers. He has contributed to numerous publications including Country Life and Financial Times.
---