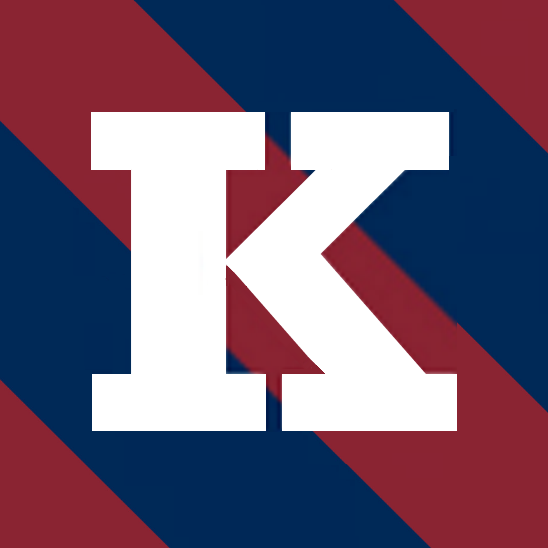 Kamakura Shirts

It was the summer of 2010 when Tamiko Sadasue, the vivacious wife and President of Kamakura Shirts and wife of the founder, Yoshio Sadasue first introduced me to Kamakura Shirt company. How it came about: Tamiko was on a visit to Paris when she came across my little book, The Ivy Look, An IIlustrated Pocket Guide, Classic American Clothing. In the book there was a spread on the Japanese love of Ivy League clothing. We mentioned VAN clothing where, ironically, Yoshio and Tamiko both worked in the 1960s. Tamiko took the book back to Japan and showed it to her husband.
Having built a successful business in Japan Tamiko knew Yoshio was thinking of fulfilling a long time dream of opening a shirt store in New York. I was told that our little book was instrumental in convincing Yoshio that it was a good move. He had already found a property on Madison Avenue and once again the fact that we had written that book convinced the property owner that Kamakura Shirts was a serious contender.
Kamakura tracked me and my co-author John Gall down to ask permissio
n
to use the Japanese spread and cover of our book on a hoarding to advertise
the stores opening. We were very excited and were invited over to New York
for the opening where we met the Sadasue family including Nanako and
Teppi who now run the company since their parents have retired. Our trip
turned out to be a bit dramatic as Huricaine Sandy decided to arrive at the
same time and we could not
fl
y home for about a week.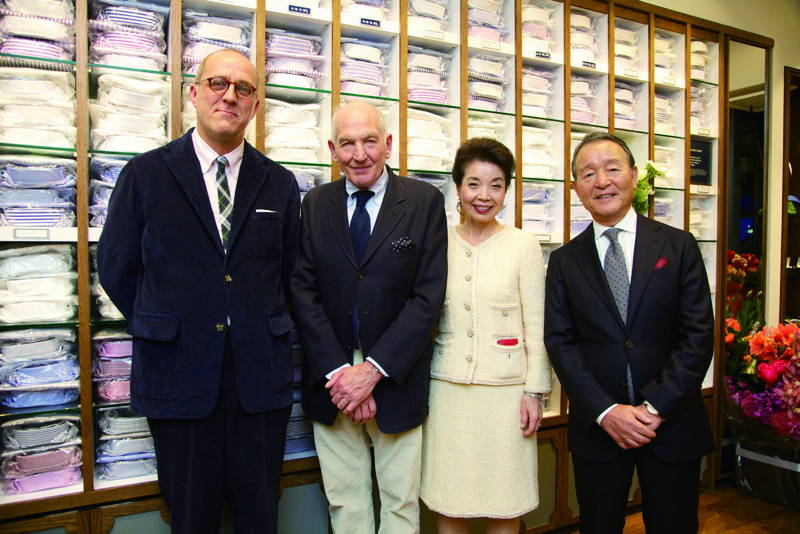 At the launch reception of the Kamakura store on Madison Avenue, New York. From left to right: John Gall, Graham Marsh, Tamiko Sadasue and Yoshio Sadasue.
As I have worn Ivy clothing since I first discovered it in the 1960s, I thought it would be great if Kamakura could make a really authentic button-down and it occurred to me that it was hard to find one made from a really good chambray cotton. Sometime later Yoshio and Teppi came to London and we had dinner at Rules restaurant in Covent Garden. They had taken my idea seriously and produced a lovely quality chambray cloth and a soft oxford cloth that would be perfect for the shirt I had in mind.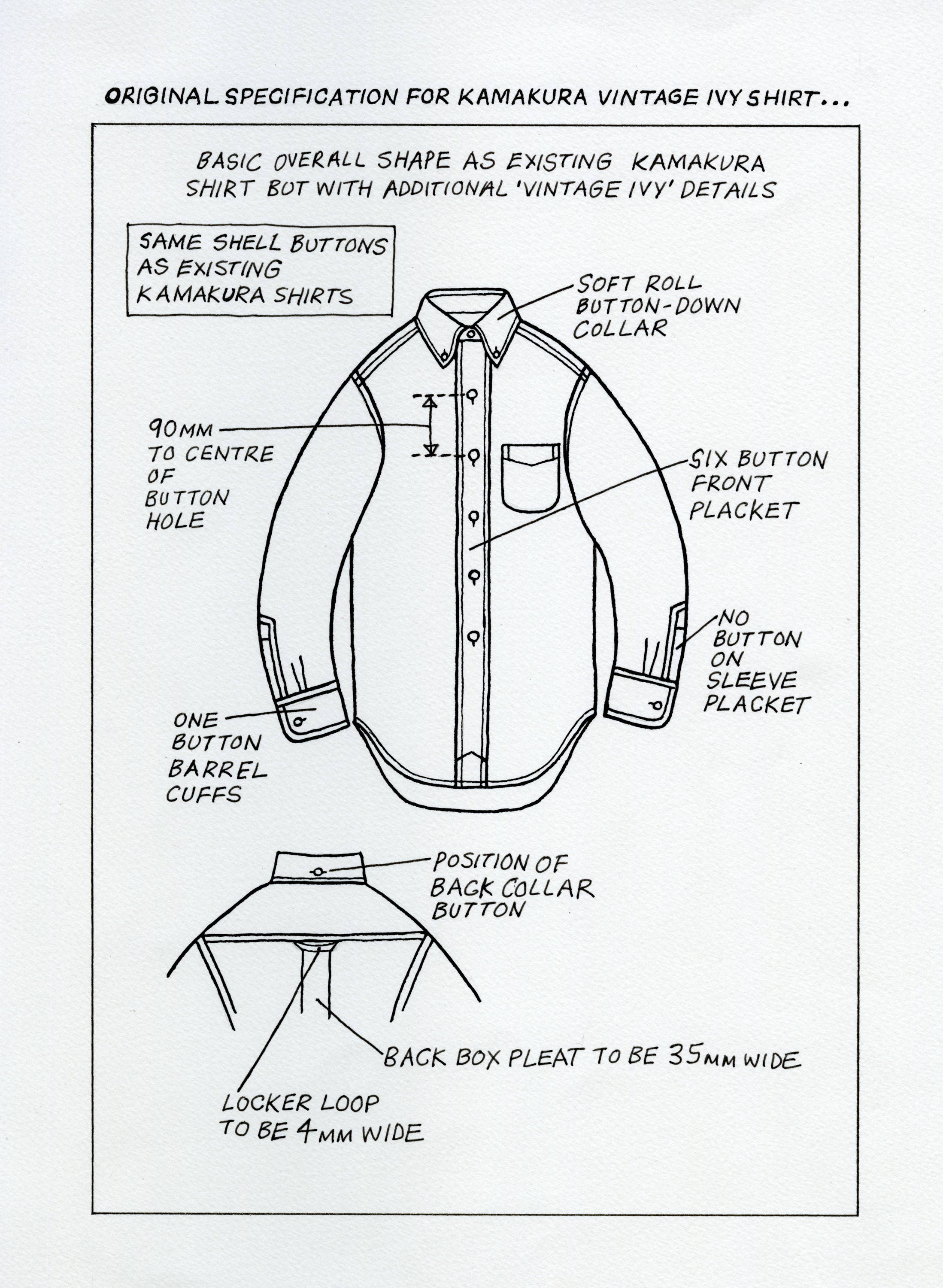 I was very pleased with the finished result - having supplied detailed drawings of all the authentic details from locker loops to natural shell buttons and a particular length of the collar to gave a superb roll. These small but important details made the difference and Kamakura agreed to brand these shirts the Vingage Ivy Collection. To add a bit of fun to the package I suggested including an illustrated postcard to be included with every shirt and online. The postcards came in the form of a little character, a cat called Max, who I had invented in a children's book called Max and the Lost Note. He is a cat composer who wears Ivy League clothes and had lost a note while composing a tune on his piano. He eventually finds the note on the sole of this penny loafers! Anyway on each postcard he wears the shirt enclosed and I write an explanation of his activity and a description of each shirt. It was just something a bit different and a kind of bonus for the buyer.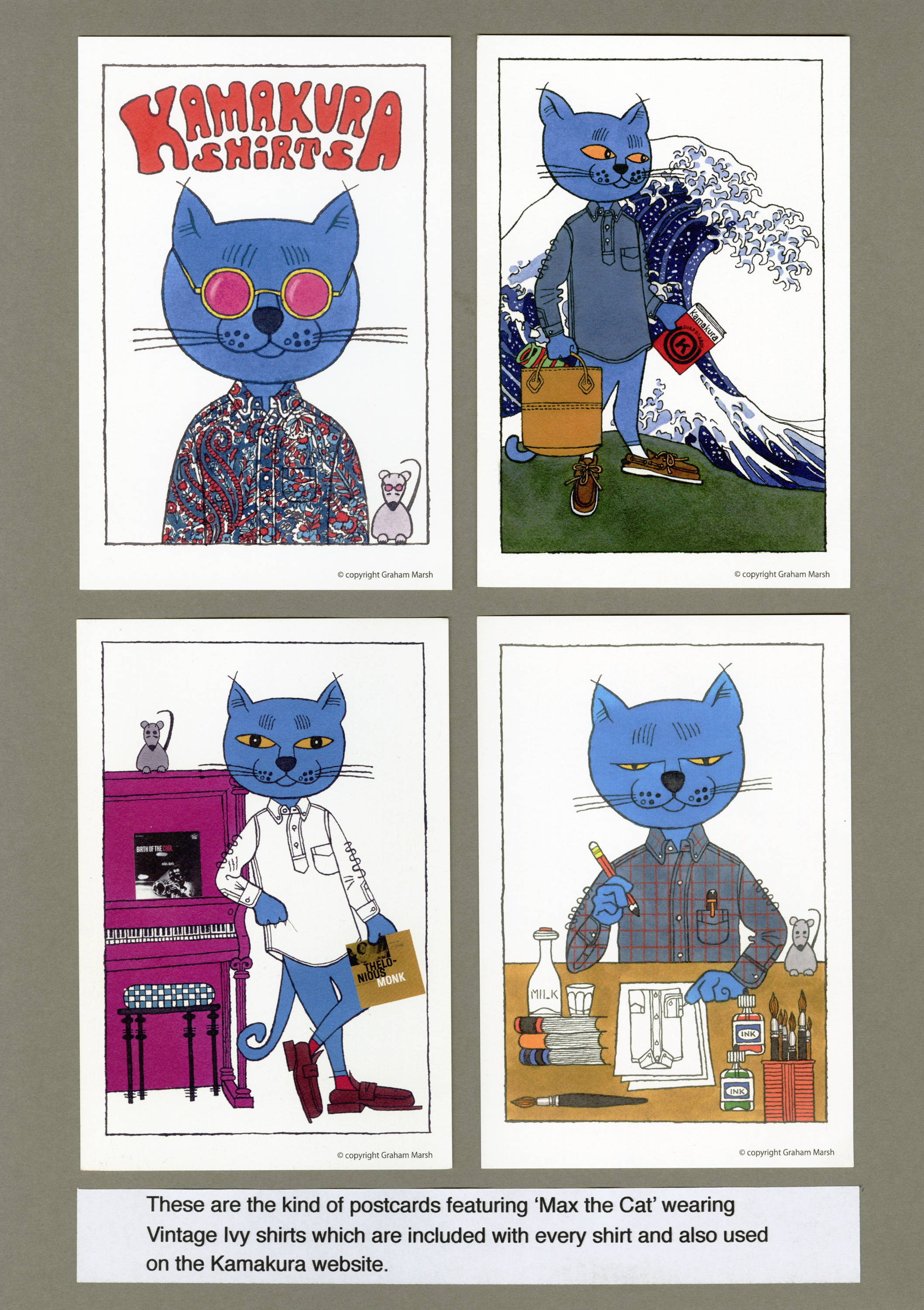 In 2013 Kamakura invited me and my wife June to Tokyo where they threw an Ivy Style party at Cross Tokyo, a spacious first floor nightclub in the centre of the city. The theme was Back to the 1960s and it was a fabulous evening. Here we met the production team and some of the factory owners who had made the shirts so well. Tamiko, Yoshio, Nanako and Teppi were there to host
the party. Everyone had a great time dancing to the 60s tunes and dressed up in Ivy clothes. Some of the older guests were excellent dancers and looked very dapper in their take on the Ivy Look. It was great fun and a good way to meet and thank the dedicated Kamakura team.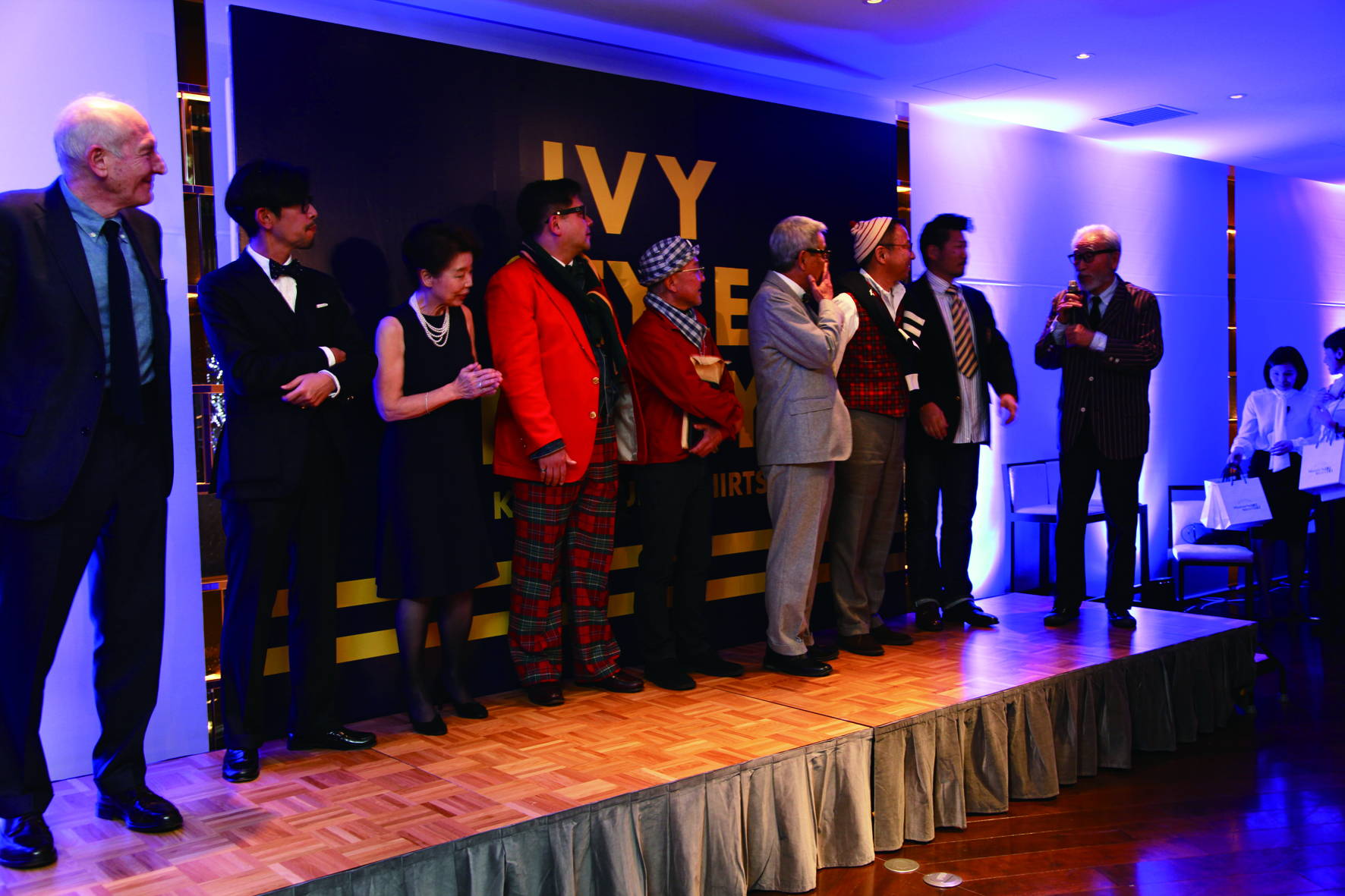 'Best Dressed' Ivy pilgrims having fun at the Ivy Party at Cross Tokyo in December 2013. Hosted by Tamiko and Yoshio Sadasue.
My day-to-day contact at that time was Emily Rabone, a charming English speaking employee and when she moved on, Kotaro Hisaka, who is a fellow passionate member of the Ivy fraternity. So there has not been much lost in translation. The past two years of the pandemic have been very hard for retail and although Kamakura no longer have a store in New York their global presence online is as strong as ever and long may it continue.
It was back in 1993 that Tamiko and Yoshio Sadasue opened a small shirt store in the historical city of Kamakura located to the South of Tokyo. It was their highly efficient business model that meant they were able to offer high quality products at an affordable price. The business was inspired by the founder of VAN Jacket Inc. Kensuke Ishizu who once said "Is there no one to take over my vision and make Japanese men fashionable?" These words began it all. Yoshio and Tamiko Sadasue both worked for VAN Jacket, the company responsible for introducing American Ivy League fashion to Japan in the 1960s and 70s.
Ishizu was also quoted as saying, "It was my job to establish a clothing company during Japan's post-war recovery, and to teach Japanese people in the manner that would not be dismissed in international company." When VAN finally closed, men's fashion in Japan deteriorated significantly and he said "No one came forward to take over my vision." Yoshio Sadasue replied immediately, "Then I will start a shirt store."
The company, Makers shirt Kamakura first began above a convenience store in the coastal town of Kamakura with the hope that one day their beautifully made shirts would be recognized by everyone, including those at the heart of Ivy League fashion. Indeed, the flagship store remains in Kamakura selling both mens and womens clothes and accessories.
From the very beginning, Kamakura Shirts have been committed to ensuring quality of the materials used as well as high standards of manufacturing by only Japanese sewing factories. Sewing techniques used in Japan are said to be the highest in the world due to precise craftmanship and excellent skill. This has certainly been the case with every shirt in the Vintage Ivy Collection that bears my name.
Many of Kamakura's more formal shirt styles appeal to the businessman and the Vintage Ivy Collection, although slightly more casual, definitely upholds the company's philosophy of providing products of high quality at a reasonable price.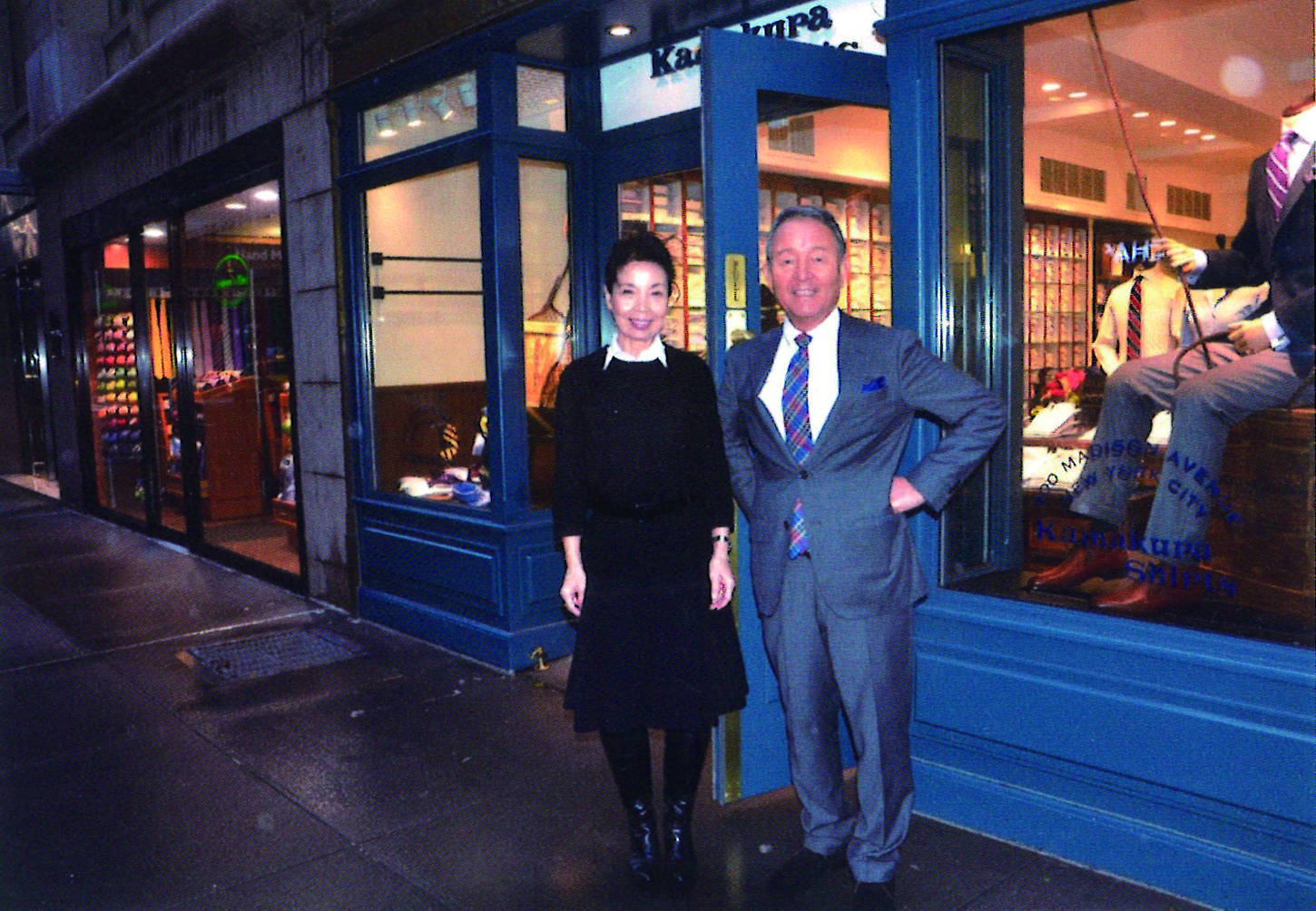 Tamiko and Yoshio Sadasue standing proudly outside their first Kamakura store on Madison Avenue, New York.
The Sadasue family were mercers (merchants) as far back as the Edo period (17th to 19th century). From a young age Yoshio was taught the principles of trade and the art of being a true merchant by his father. Merchants who value dignity and pride, even more than high-ranked samarai. Yoshio followed the path of a true merchant as do his children who now run the company. Kamakura Shirt has a global online presence and like most Japanese art and culture, is enshrined in meticulous attention to detail. They truely put their customers first and refuse to make any consessions in researching what makes their customer happy.
Finally, I have to say it's most satisfying to see the Kamakura Vintage Ivy Collection expanding in line with today's satorial and purchasing requirements and it's great that it's a look that seems quite timeless and appealing to a wide age group of men and women of all professions.

Written and illustrated by Graham Marsh
Illustrations: Copyright Graham Marsh


About Graham Marsh
Graham Marsh is an art director, illustrator and writer. He has written and art directed many ground-breaking visual books including The Cover Art of Blue Note Records, volumes 1 and 2, East Coasting and California Cool. He has co-authored and art directed Denim: From Cowboys to Catwalks and a series of books with Tony Nourm and on movie posters. More recent books are The Ivy Look, Hollywood and the Ivy Look, Jazz Festival, The Beat Scene, French New Wave: A Revolution in Design and a 50th Anniversary volume on Woodstock plus a book on the early years of Ronnie Scott's Jazz Club. He is author and illustrator of a children's book called Max and the Lost Note. Marsh's illustrations have appeared in magazines, newspapers and on many CD and album covers. He has contributed to numerous publications including Country Life and Financial Times.
---