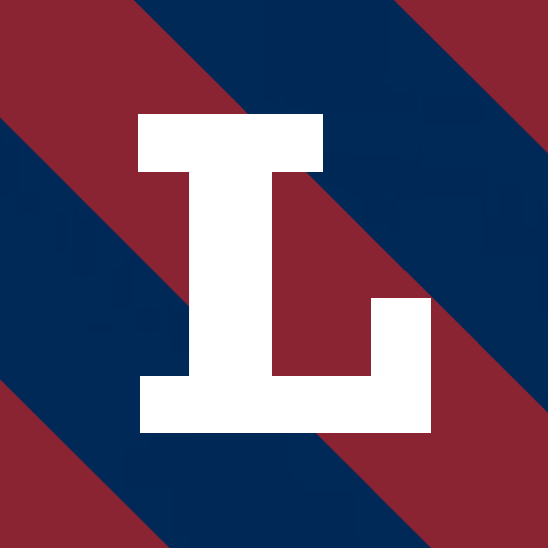 Stop talking, start walking, these shoes have soul

The first thing a member of the Ivy fraternity will look at are your shoes; from there they will check out the rest of your wardrobe. If you are not wearing what are considered to be acceptable shoes you will be met with frosty indifference, at best a dismissive 'nice shoes' which you really do not want to hear. There are, of course, many types of classic footwear associated with the Ivy look but the ultimate American classic has to be the loafer.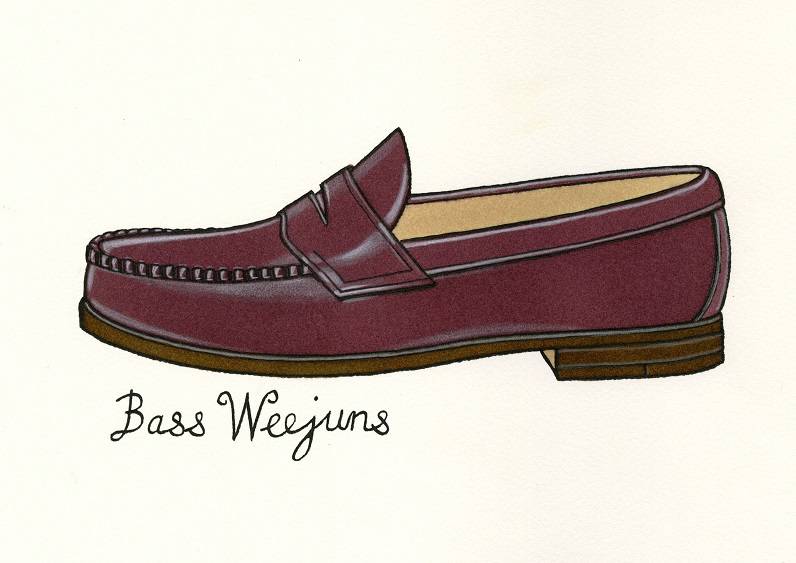 Over the years I have lost track of the number of Bass Weejun loafers that I've owned.Whether they were plain vamp, tassle or beef-roll all enveloped my feet - usually without socks, with a comfortable feeling that all was right with the world. The original loafer was introduced to America in 1936 by bootmaker George Bass, who had made boots for Admiral Byrd's Antarctic expedition and flying boots that Charles Lindburgh wore on his solo transatlantic flight. Bass, no novice when it can to footwear, adapted his new shoe from a traditional Norwegian fisherman and farmer's slipper, calling it the Weejun in acknowledgement of it's Norse origins.
Ironically the Norwegian shoe was probably based on the American Indian moccasin. The Weejun soon became a symbol of American casual style. These loafers were so comfortable and hip you could put them on with your hands in your pockets, a sometimes overlooked fact but worthy of special mention in dispatches.The penny loafer tag came about after a craze started by Ivy women who slipped pennies into the 'saddle' at the fromnt of their loafers. At the time it cost just one penny for a public telephone call!
The list of movies in which loafers were worn in endless. Gene Kelly sang and danced his way through An American in Paris wearing loafers. Fred Astaire had on loafers and a blue button-down in Funny Face. James Stewart wore loafers in Rear Window, Gregory Peck in Roman Holiday and Cary Grant raised the bar in North by North West wearing a pair of elegant tassled loafers and a white button-down shirt. Even Mathew Broderick wore loafers in Ferris Bueller's Day Off. Crazy. Loafers and button-downs - As American as apple pie.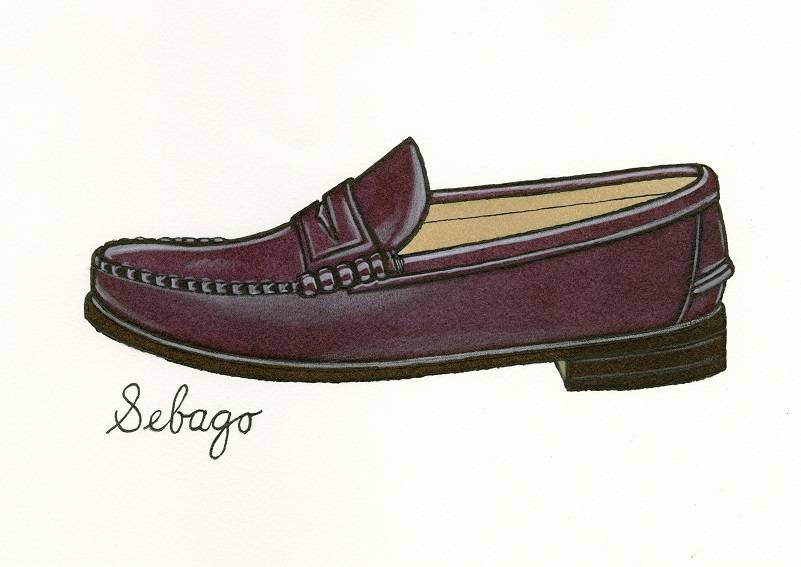 Worth a mention here, two British shoemakers had been producing a similar loafer style since the 1920s. One by the London shoemaker called Wildsmith. They produced a slip-on shoe developed as a country house shoe for the landed gentry and the royal family. The "Wildsmith loafer" as it was then called was made by Raymond Lewis Wildsmith and was originally designed for King George V1. Saxone, established in 1908 was the other contender, based in Scotland their loafers were distributed all over the UK. These were the loafers I first discovered in the early1960s as American loafers at this time were impossible to come by so unless you had a friend travelling to the US who was willing to bring a pair back to London you had to settle for homegrown loafers made by Saxone. They still produce a small range today but they are now made in Italy.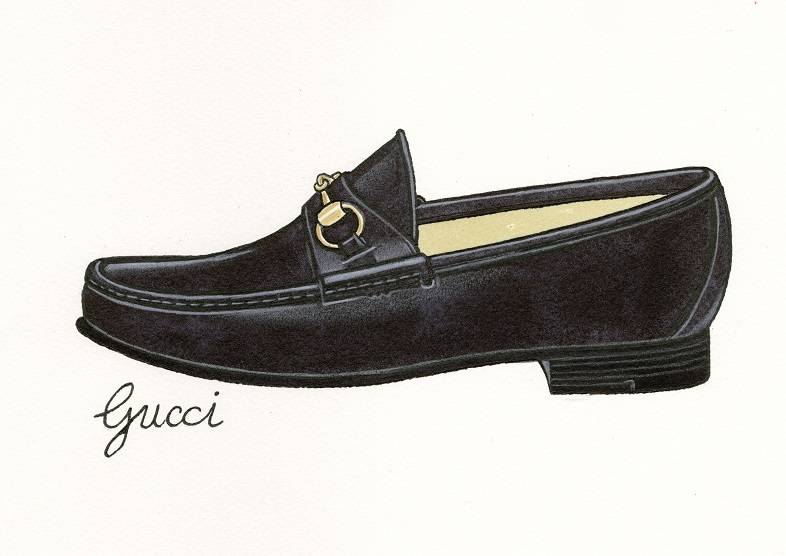 Back in the mid-1950s, further continental influences brought an awareness of an ever more elegent image to the light, lower-cut slip-on loafer shoe which moved from purely casual to being paired with suits in the 1960s in the US. Gucci further advanced the style adding luxurious features in the shape of a metal strap across the front in the shape of a horse's snaffle bit. Ideally, Gucci loafers had to be worn with an Italian accent. For mere Ivy pilgrims Gucci loafers were strictly post collegiate.
There are many desirable loafer variations to the classic penny loafer and I have to admit to my addiction to these wonderfully comfortable and good-looking shoes. My absolute favourite is the Horween shell cordovan hand sewn moccasin loafer by Alden Shoe Co. (three pairs in various stages of wear). other favourites are loafers by Sebago.,Cole-Haan in brown suede and several pairs of Bass Weejuns, of course.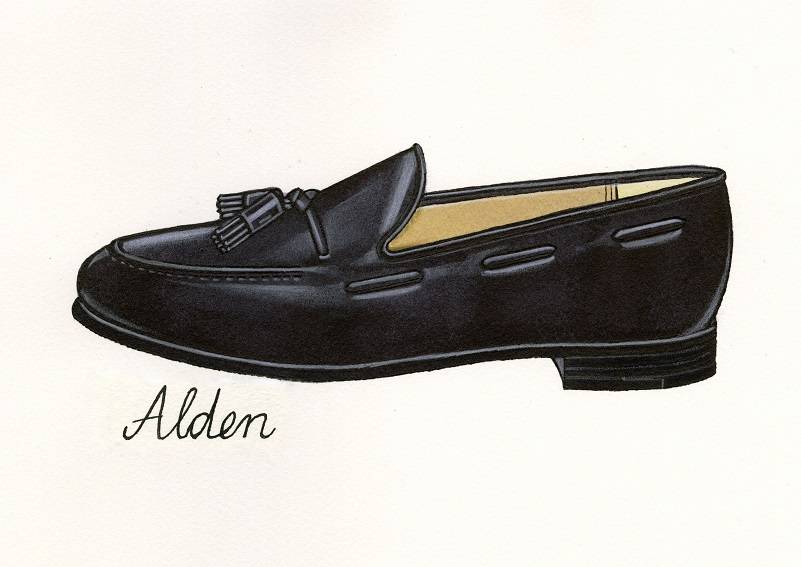 To sum up, loafers look better and become more comfortable after each wearing, as they take on the shape of your foot. As George Frazier, the late, great tastemaker and doyen of Boston journalists, said: 'Wanna know if a guy's well dressed? Look down.'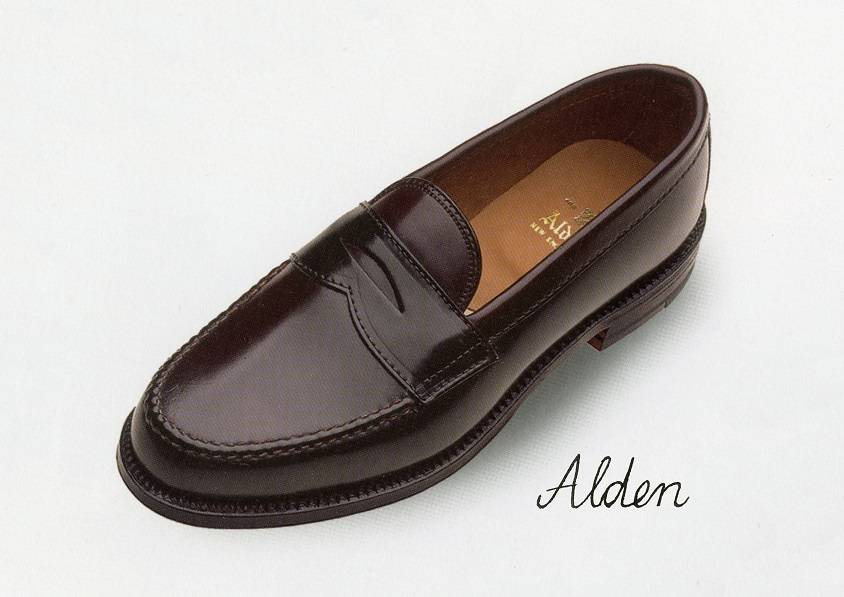 The illustrations of Bass Weejun's, Sebago, Gucci, Cole-Haan and Alden black tassle are my illustrations. The cordovan Alden loafer is a photograph.

Written and illustrated by Graham Marsh
Illustrations: Copyright Graham Marsh


About Graham Marsh
Graham Marsh is an art director, illustrator and writer. He has written and art directed many ground-breaking visual books including The Cover Art of Blue Note Records, volumes 1 and 2, East Coasting and California Cool. He has co-authored and art directed Denim: From Cowboys to Catwalks and a series of books with Tony Nourm and on movie posters. More recent books are The Ivy Look, Hollywood and the Ivy Look, Jazz Festival, The Beat Scene, French New Wave: A Revolution in Design and a 50th Anniversary volume on Woodstock plus a book on the early years of Ronnie Scott's Jazz Club. He is author and illustrator of a children's book called Max and the Lost Note. Marsh's illustrations have appeared in magazines, newspapers and on many CD and album covers. He has contributed to numerous publications including Country Life and Financial Times.
---