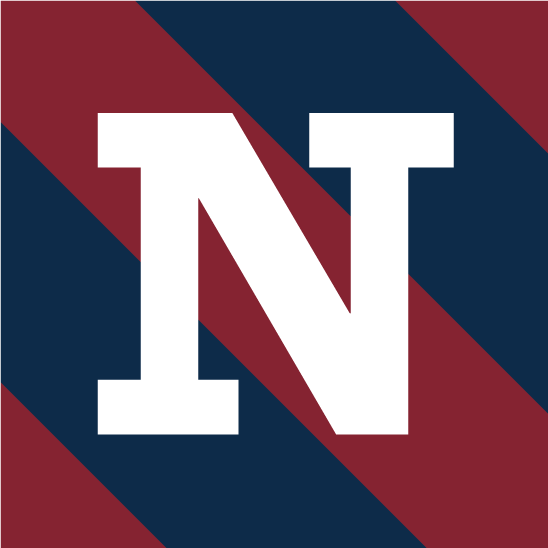 "A well tied tie is the first serious step in life"-OSCAR WILDE

If there is an essential element that signifies the Ivy look it would have to be the necktie. It may be true that a number of men from all areas of commerce and the arts have discarded the tie but the majority have not. Dress-down fridays, a trend that caught on in the 90's may have had something to do with that. However, Kamakura have certainly bucked that trend and are world reknown for their beautiful and varied ties. From lusterous silks and distinctive Grenadines bespoke from Italy to versatile knitted styles and their perfectly balanced all-rounder made by Nishijin in Kyoto, famed for their traditional fabrics and tailoring.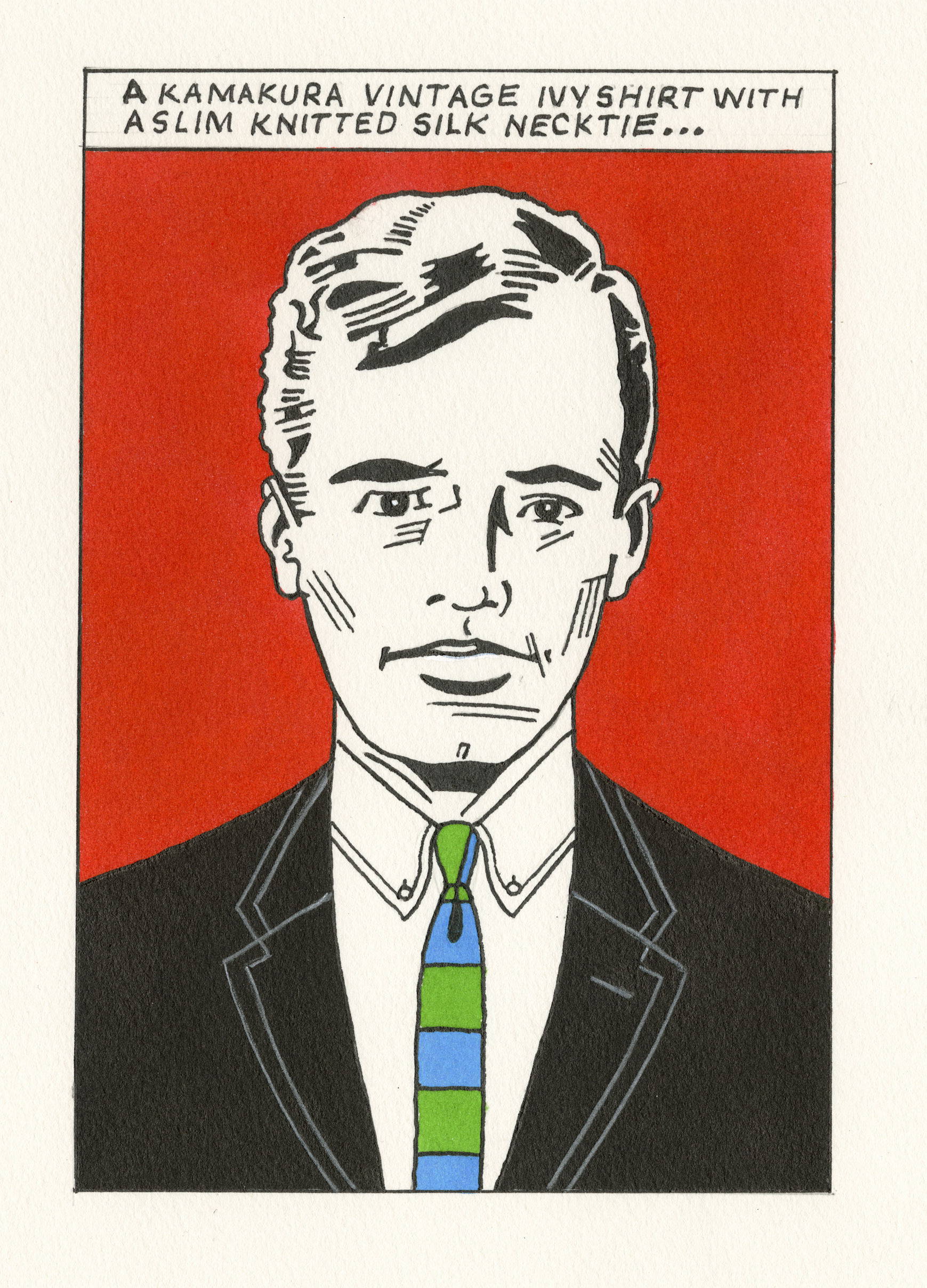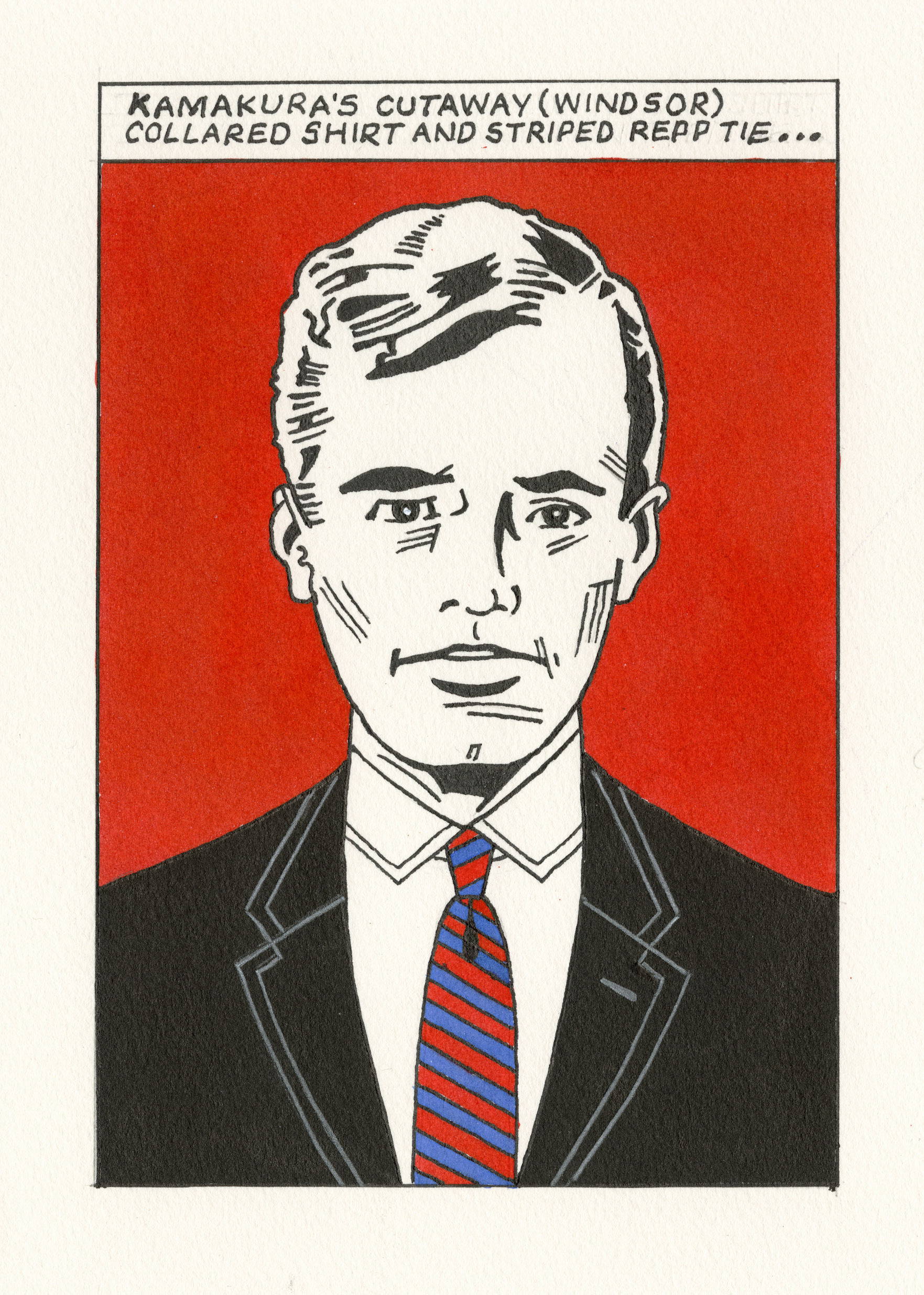 Most ties measure three and a quarter inches, some may be a little wider and some a narrower width. Whatever width you choose the relationship to the tie's knot to the shirt collar is an important consideration. If the relationship is good, the knot will never be so large that it spreads the collar or forces it open, nor so small that it will become lost in the collar. Standard tie lengths are anywhere from 52-58 inches long but taller men, or those who use a Windsor knot, may require a longer tie which can usually be specially ordered. After being tied the tips of the necktie should be long enough to reach the waistband of the trousers.
All fine quality ties have been cut on the bias, which means they have been cut accross the fabric. This allows the tie to fall straight after the knot has been tied, without curling. Except for those in knit, good ties will be interlined to provide enough bulk for knotting. There should be a bar tack, a short horizontal stitch on the back of the broad end on the tie that keeps it from gaping. It should be neat and should not show signs of pulling the fabric around it. Most top quality ties are made in Europe although there are exceptions. The finest ties are made in Italy.
There are several ways to knot a tie. The well-tied tie will have a slight dimple in the middle of it beneath the knot.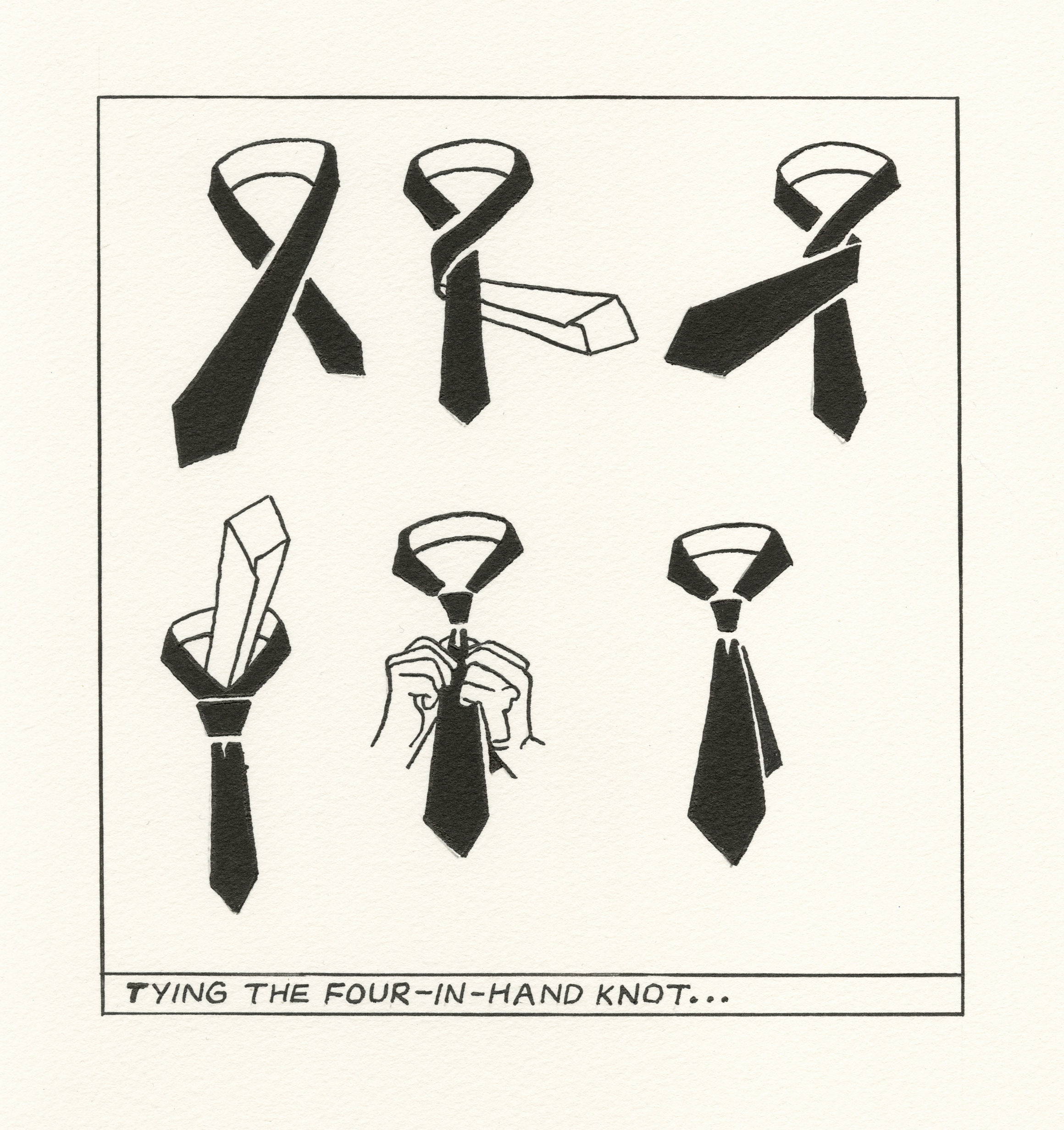 The four-in-hand (which dates back to the days of coach and horse travel in England when the men on top would knot their ties in this manner to prevent them from flying in the wind). It's the simplest and produces a discreet, low-lying knot.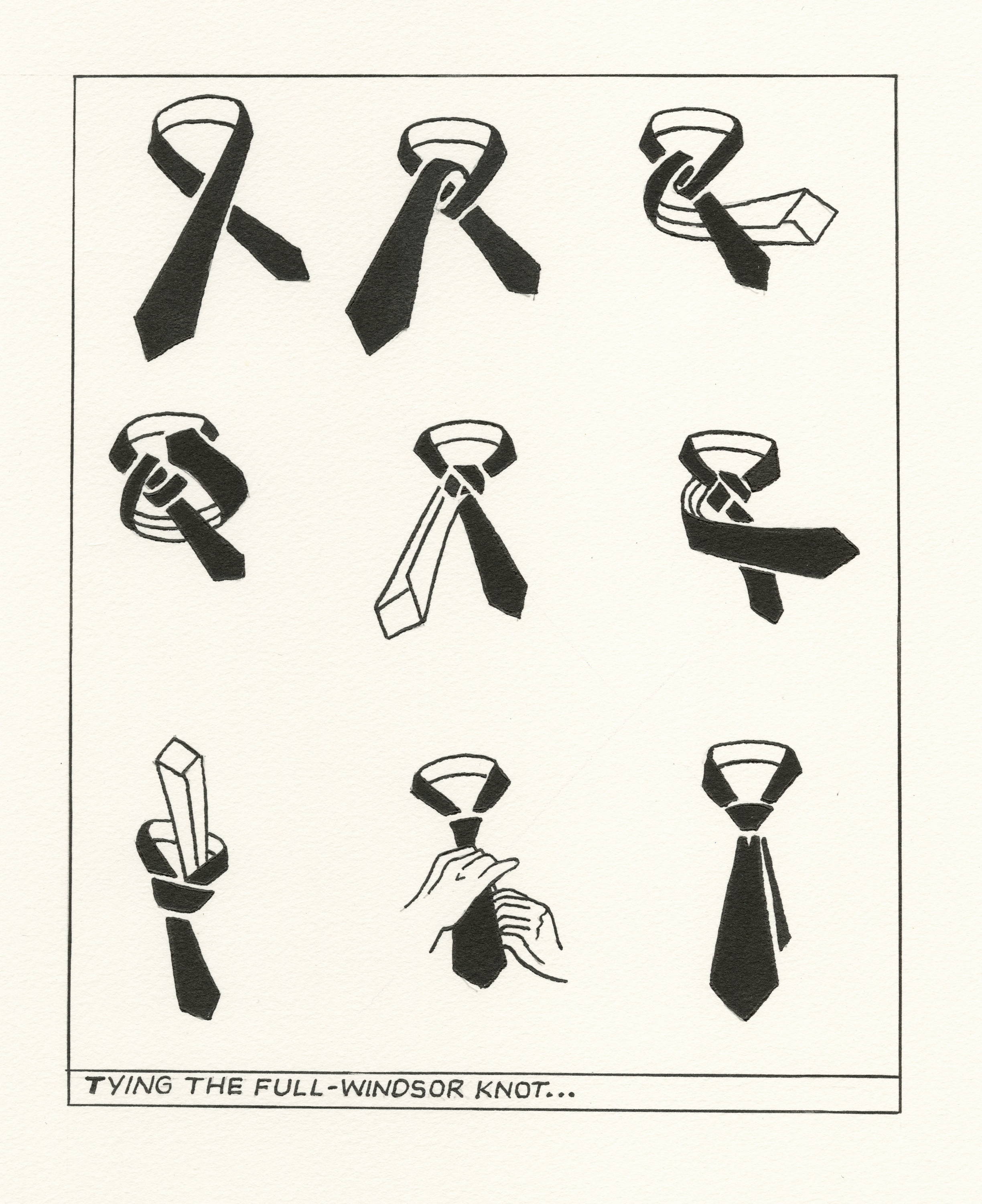 The Windsor knot, favoured by the Duke of Windsor only looks good with a spread collar. The Duke liked his ties to jut forward from a spread collar.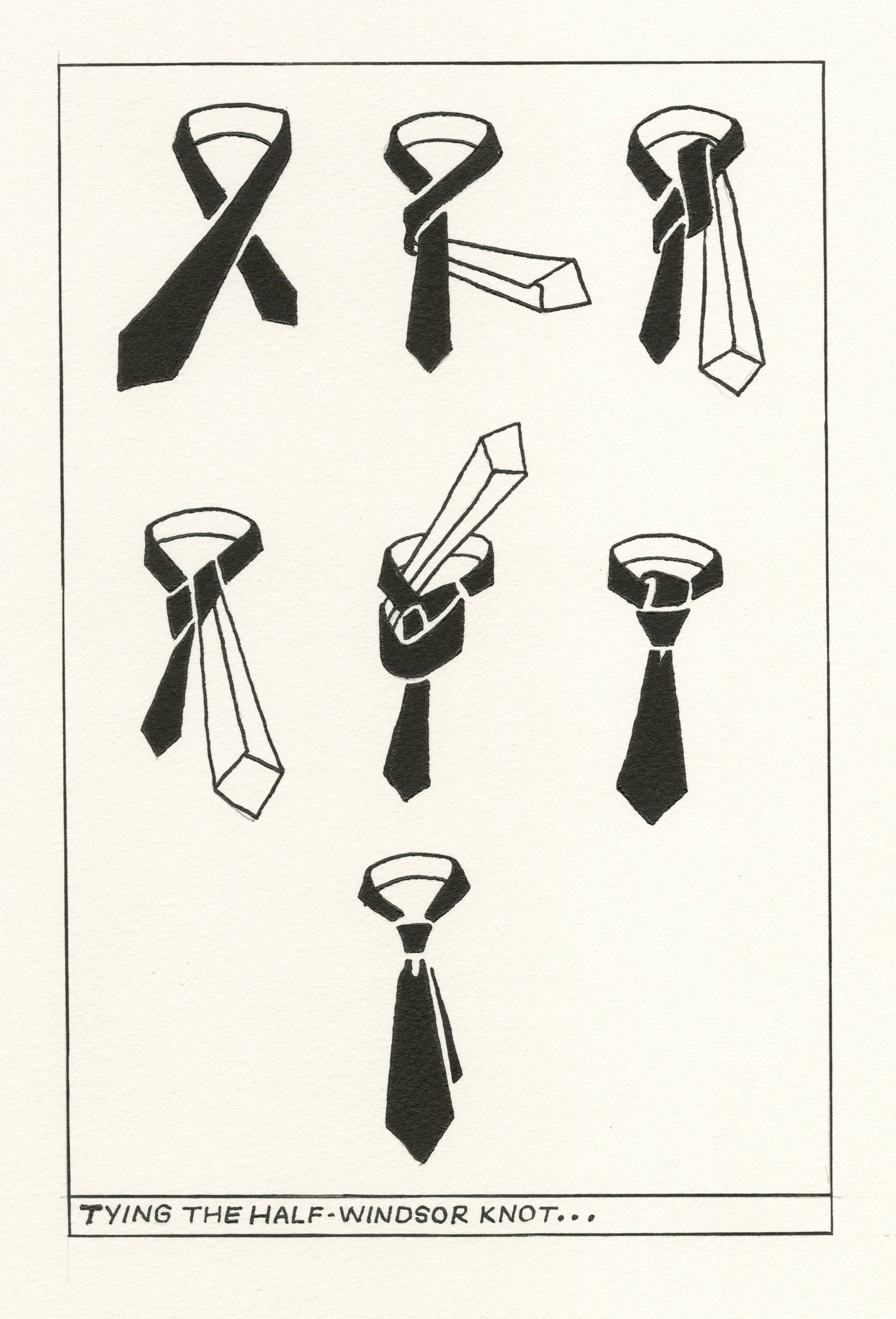 The half Windsor requires more twists and turns than the four-in-hand.
The four-in-hand is the most precise of knots and is mostly worn with a button-down shirt that has been a staple of Ivy for the past 50 years.
A well chosen tie, like pocket hankerchiefs and socks is a great way for men to express their individual style and to add colour and texture to their Ivy wardrobe. Whether you go for a Club tie that has a dark ground with heraldic patterns and crests or the Regimental stripe or "Repp" tie that has diagonal stripes in the colours and widths of British military regiments. The Foulard of lightweight silk twill with small geometric prints, the Grenadine of loosely woven silk knit with an irregular surface. There is also the Challis which is of wool worsted, patterned or solid. Not forgetting the narrow, silk knitted tie and not so easy to find, a handsome Madras check. The choice is yours.
The origin of the necktie came into existence directly as a result of war. It was during the 30 years war (1618-1648) when King Louis XIV hired Croatian mercinaries who wore brightly coloured neckerchiefs knotted around their necks as part of their uniform. This held the top of their jackets together and was more practical than stiff collars. King Louis was well known for his keen eye towards personal adornement and took a fancy to these
neck cloths which probably descended from Roman fascalia worn by orators to warm their vocal cords. The King soon made an insignia of royalty as he created a regiment of Royal Cravattes. The word 'cravat', is said to derive from the word "Croat". It wasn't long before this new style crossed the channel to England and from then on no gentleman would consider himself well-dressed without sporting some kind of cloth around his neck, the more decorative, the better. Cravats made from all kinds of fabrics became popular and almost 100 knots were recognised.
Today, as long as the world and business leaders continue to wear ties, the young executives will follow suit and ties will remain a key to the boardroom. Ties can add a touch of luxury and richness to the somewhat austerity of the business suit as well as remaining an Ivy classic.

Written and illustrated by Graham Marsh
Illustrations: Copyright Graham Marsh


About Graham Marsh
Graham Marsh is an art director, illustrator and writer. He has written and art directed many ground-breaking visual books including The Cover Art of Blue Note Records, volumes 1 and 2, East Coasting and California Cool. He has co-authored and art directed Denim: From Cowboys to Catwalks and a series of books with Tony Nourm and on movie posters. More recent books are The Ivy Look, Hollywood and the Ivy Look, Jazz Festival, The Beat Scene, French New Wave: A Revolution in Design and a 50th Anniversary volume on Woodstock plus a book on the early years of Ronnie Scott's Jazz Club. He is author and illustrator of a children's book called Max and the Lost Note. Marsh's illustrations have appeared in magazines, newspapers and on many CD and album covers. He has contributed to numerous publications including Country Life and Financial Times.
---