S For Sweaters and Scarves
"If people don't want to listen to you, what makes you think they want to hear from your sweater?"
-Fran Lebowitz
Sweaters
To accompany my diet of modern jazz there was, and still is, a generous side order of Stax and Atlantic soul plus some delicious Ska and Blue Beat. Modern jazz took in Miles Davis, Sonny Rollins, John Coltrane and a host of fine musicians - too many to list here. Also, and not to be everyone's taste was what eventually became known as free-jazz. The main exponent of this music was Ornette Coleman. Coleman was an alto-saxophonist from Texas who played a yellow plastic Selmer saxophone much to the amazement of the jazz fraternity but most memorable was his dress sense which was pin sharp. On the cover of his album, The Shape of Jazz to Come he wore a crew neck sweater with contrasting colour around the neckline, this is known as tipping which was much appreciated by Ivy pilgrims at the time. The album was released in 1959, the line up was, Don Cherry trumpet, Charlie Haden Bass, Billy Higgins Drums and Ornette Coleman alto sax. OK, now back to sweaters.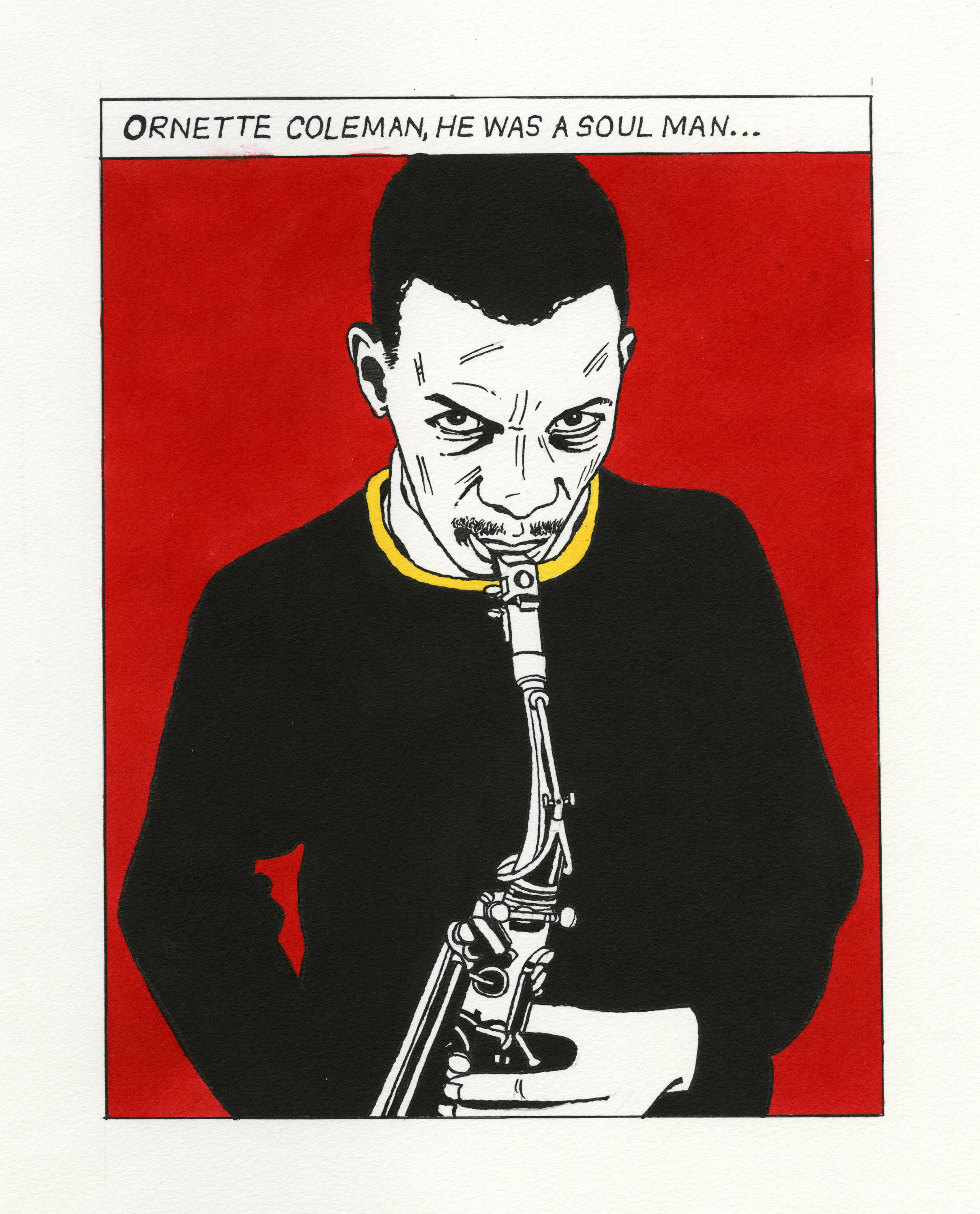 Sweater is an unfortunate name for such a covetable piece of Ivy clothing and far from the garments namesake - originally meant to be an aid to reducing body weight! Personally, I think there is nothing better than a pure Shetland crew neck (knitted in at the neckline, not sewn) with raglan sleeves and discreet seaming to layer over your buttondown shirt in winter. I used to buy beautifully crafted Shetland crew necks for a very reasonable price in the 1960s from a London store called Westerway and Westerway but sadly, like so many excellent sources of the classics, this store closed during the 90s. Now a pure Shetland crew neck with the correct styling and natural colours will set you back a three figure sum. This style of sweater usually comes in a range of pastel and solid colours in cotton for summer wear and looks good with chinos or denim.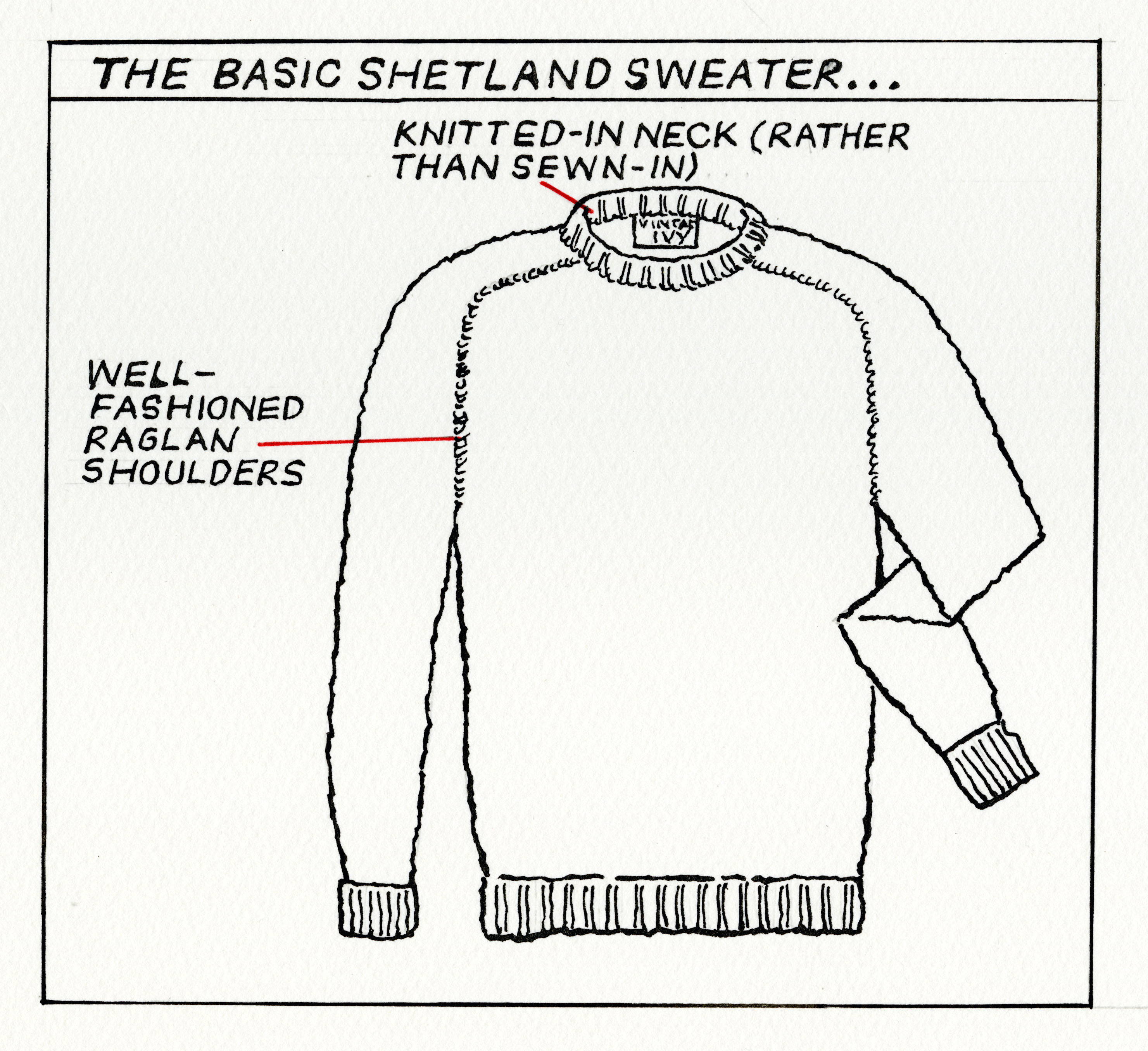 A well-worn sweater with patched elbows is a definite 'old money' look whether it is a cable knit, cashmere V-neck, Shetland or Aran knit or indeed, a crew neck with tipping if you can find one. In chilly weather a lightweight sweater looks the business wrapped around shoulders or waist. I usually keep out a particularly well-loved navy cashmere V-neck for this purpose for chilly summer nights.You can never have enough knitted sweaters, they are for collecting. Apart from the basic Shetland crew neck, the same fully fashioned style comes in all-over cable and more luxurious cashmere versions for those with deeper pockets. Another essential Ivy classic is the L.L.Bean Norwegian sweater for the winter months. Navy blue with white checks in 80 percent unscoured wool for water repellency and 20 percent rayon for strength. These sweaters are amazingly warm and are mostly only available in the fall.
Talking of Ivy favourites, there is also the Irish fishermans sweater. Hand knitted in the Aran Isles it comes in cream or navy blue coloured wool with distinctive raised patterns. Originally each family had it's own pattern to enable fishermen to be recognised if they were unfortunately drowned at sea. More urbane is a fine cashmere V-neck, very useful to wear under a jacket, it can also work with a dress shirt. And to finish off, a more sporty version is the tennis or cricket sweater, V-neck, cable-knit in cream coloured wool with navy or maroon stripes around the cuffs, waist and neckline. This style will look great with shorts or pale coloured chinos. Quality counts when it comes to Ivy style so look for natural fabrics, fine details and sound construction and your sweaters certainly won't go out of style.
A few years back I illustrated and wrote a childrens book called Max and the Lost Note. Max was a piano playing Ivy League cat with modernist sensibilities. In one illustration Max was wearing his Harvard scarf which is why it appears here. Scarves of the Ivy League universities are colourful ways to identify your tribe as well as keeping you warm. There are as many combinations of colour and size of stripes as there are flags of the world and can be bought from most university stores online. They are typically long and quite narrow and made from a felted wool cloth. One of these college scarves is a handsome addition to the Ivy wardrobe.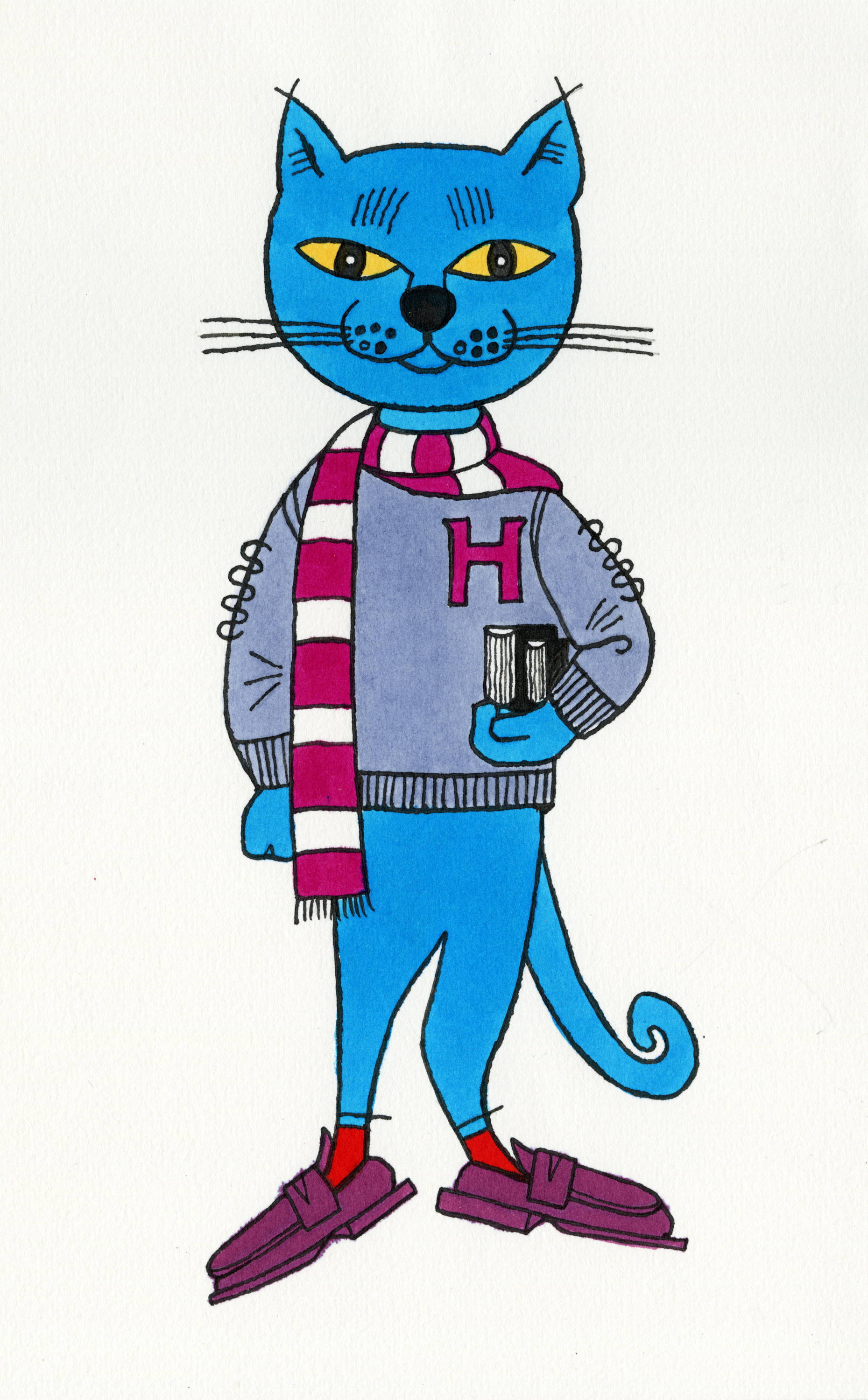 Written and illustrated by Graham Marsh
Illustrations: Copyright Graham Marsh


About Graham Marsh
Graham Marsh is an art director, illustrator and writer. He has written and art directed many ground-breaking visual books including The Cover Art of Blue Note Records, volumes 1 and 2, East Coasting and California Cool. He has co-authored and art directed Denim: From Cowboys to Catwalks and a series of books with Tony Nourm and on movie posters. More recent books are The Ivy Look, Hollywood and the Ivy Look, Jazz Festival, The Beat Scene, French New Wave: A Revolution in Design and a 50th Anniversary volume on Woodstock plus a book on the early years of Ronnie Scott's Jazz Club. He is author and illustrator of a children's book called Max and the Lost Note. Marsh's illustrations have appeared in magazines, newspapers and on many CD and album covers. He has contributed to numerous publications including Country Life and Financial Times.
---